Clubhouse Dexerdry Weather-diverting System
Dexerdry is a one-of-a-kind, patented solution for weather-proofing all types of outside decks. This revolutionary system comprises thermoplastic inserts that fit perfectly between the grooves in your deck boards. Dexerdry completely water-proofs the deck surface while keeping the space underneath your deck dry and sheltered. The end result is a more livable, lower maintenance, and longer-lasting outdoor deck space.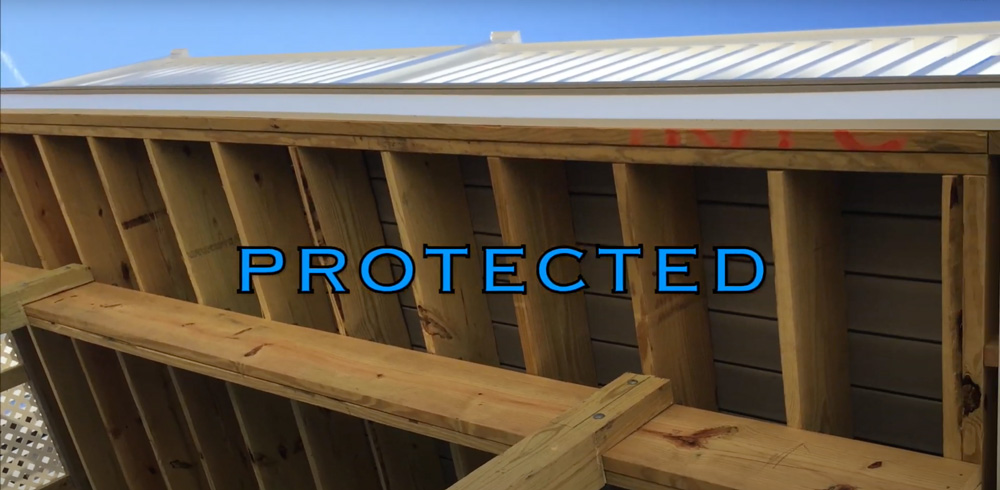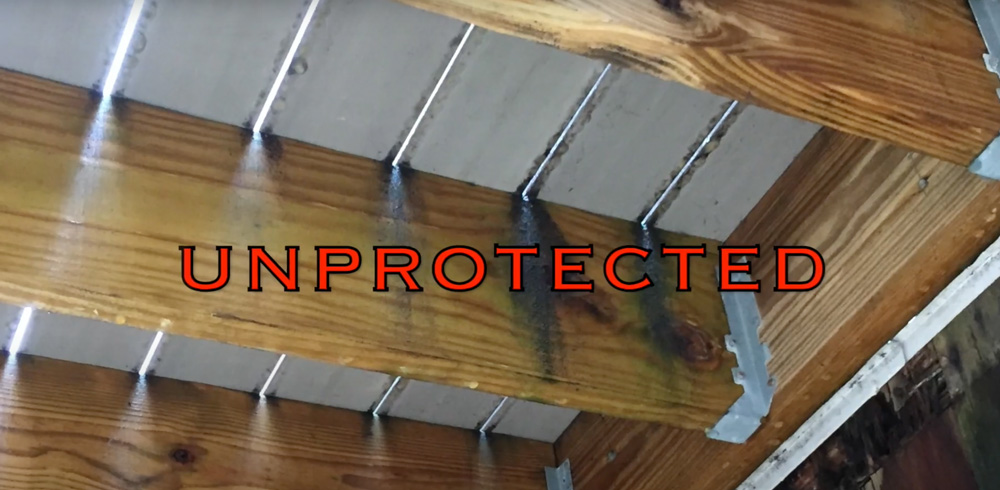 Do note that we highly recommend using a board straightener/lever tool to tighten seams during installation of Dexerdry. Dexerdry additionally comes with a 25-year limited warranty for total peace of mind.
Dexerdry advantages include:
Creates a dry space under elevated decks
More usable outdoor living space
Easy to install and maintain
Economical
Made in the USA from recycled and eco-friendly materials
Eliminates water issues from ground level decks along with associated issues, such as moldy smells and possible mosquito breeding grounds
Do you need to store things below your deck but are concerned about water getting under the deck? Then Dexerdry weatherproof seal is a must!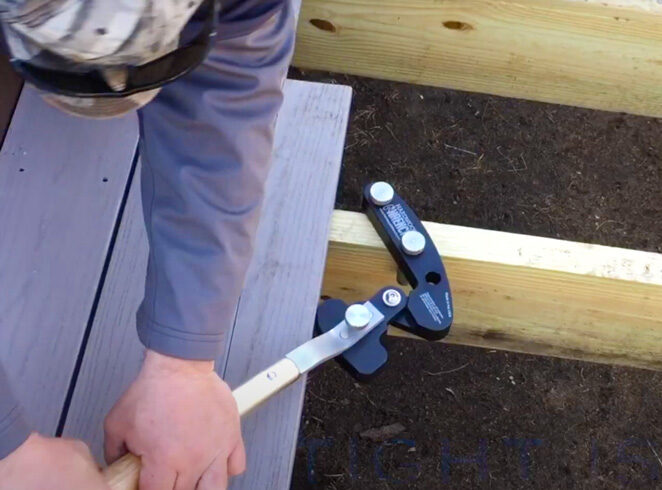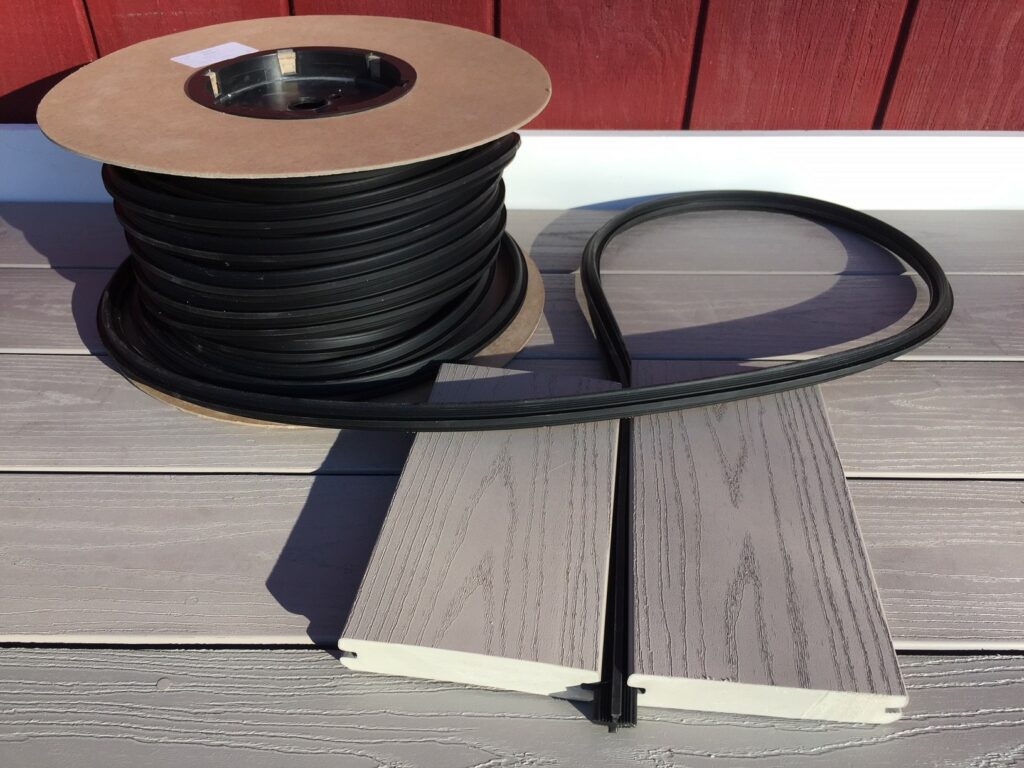 Dexerdry Product Features
Easy to Install
Dexerdry is packaged in a flexible coil which can be easily cut to the sizes needed to match your deck requirements
No need to use a spacer
Easy to Maintain
Dexerdry is not rubber but instead is engineered from a proprietary blend of thermoplastic
Simply rinse Dexerdry with water to clean
Dexerdry is designed to withstand rain, sun, and all other elements
Economical
Dexerdry is the most cost effective solution for creating a completely dry space under any type of deck
Dexerdry increases your living space by giving you access to areas under your deck that could not previously be used for storage or extra outdoor living space
Even More Benefits!
Eliminate debris that gets trapped between deck boards
Eliminates odors that often occur with ground level decks
Eliminates pesky insect breeding grounds
Create an additional storage space
Made in the USA
FAQs – Frequently Asked Questions
Q. How can I address any wicking issues?
A. Dexerdry recommends on all installations the use of a drip edge to protect the outside perimeter of the deck installation. The drip edge cut should be slightly deeper than the depth of the board slot. Another option would be to seal the outside edge of the boards and the Dexerdry flange with a sealant.
Q. How do I use Dexerdry on a deck that is larger than 20 feet, or am I required to run the deck boards in a certain direction?
A. Please view Dexerdry's video about this by clicking here.
Q. Does Dexerdry require pitching the deck?
A. Yes, we recommend that the deck be pitched 1/8 of an inch per foot.
Q. Can I use the hidden fastener clips with Dexerdry?
A. No, Clubhouse clips occupy the same slot which is used by Dexerdry.
Q. How much Dexerdry will I need?
A. By using this chart, determine how many deck boards you have and be sure to have one length of Dexerdry for each board.
240 Linear Feet (120 sq. ft.)
50 Linear Feet (50 sq. ft.)
Individual Pieces
Deck Size
Individual Pieces
240 Linear Feet
120 Sq. Ft.
50 Linear Feet
20, 12' Pieces
12' W x 10' D
4+, 12' Pieces
15, 16' Pieces
16' W x 7' D
3+, 16' Pieces
12, 20' Pieces
20' W x 6' D
2+, 20' Pieces
Q. What do you suggest for caulk? 
A. Lexal is a very common one found almost everywhere. The DAP is also a good one because it claims it won't wash off soon after it's applied. That means if you start working in the morning and it rains at 11:00am, you won't have to worry about it.