TruNorth Composite Decking vs Clubhouse PVC Decking
As you consider your options for decking materials, you may be wondering about the differences in benefits & features between TruNorth composite and Clubhouse PVC decking. You may also be curious to find out if one of them is better suited than the other for your project.
What is Composite Decking?
Typically, when people think of composite decking, they are thinking of a deck board made of a mixture of plastic and wood flour, sawdust, wood chips, or other wood fibers, co-extruded with a protective polymer coating. TruNorth composite decking is not your average composite decking though.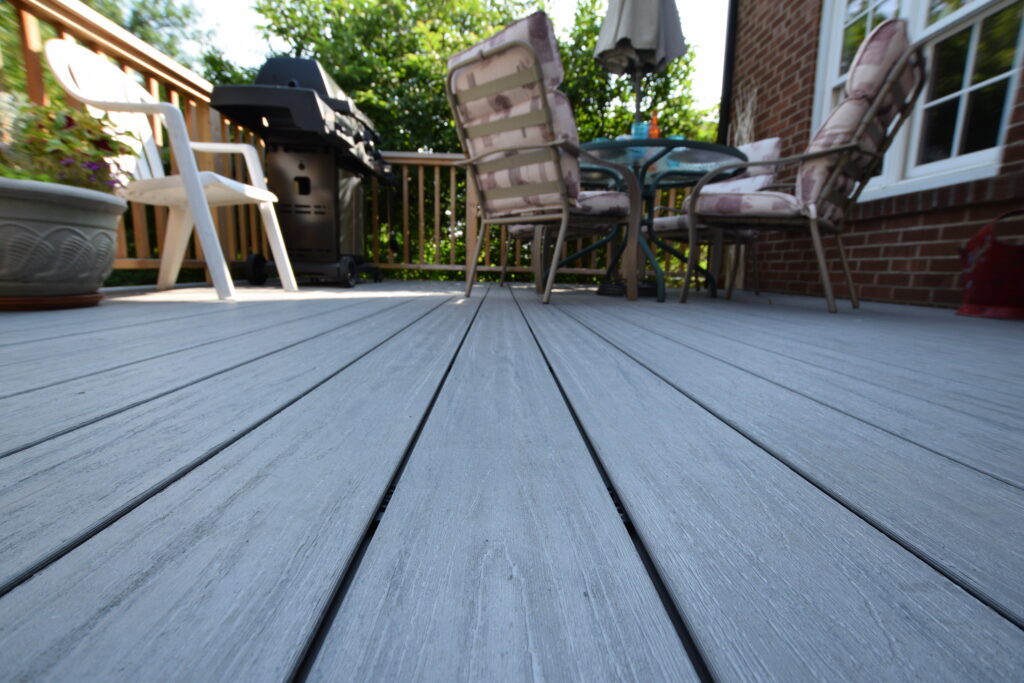 What is PVC Decking?
PVC decking (polyvinyl chloride decking) is another alternative to wood decking made entirely from plastic. Like composite decking, PVC decking is produced using a coextrusion process that bonds an outer cap layer to the inner core of the board. And also much like composite decking, not all PVC decking are created equal. A lot of PVC decking, while resilient and durable, lacks the aesthetic qualities that sets Clubhouse PVC decking apart from the competition.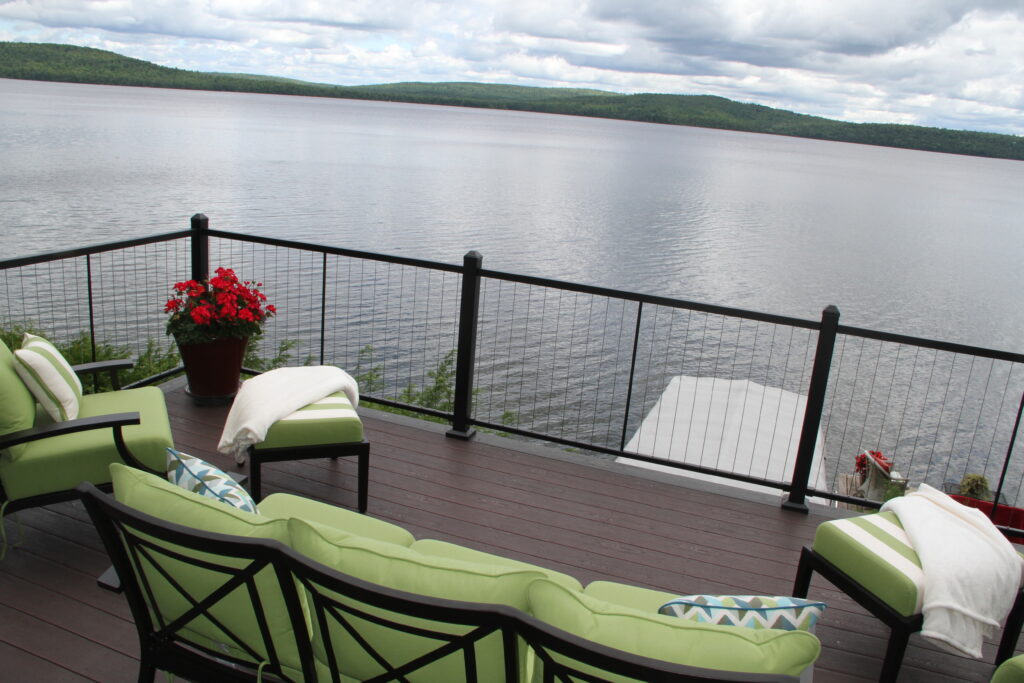 Why Choose TruNorth Composite Decking?
First, it does not contain any wood. Instead of being made with wood, TruNorth Decking is made with a proprietary formula that uses upcycled rice hulls. Because wood is naturally hygroscopic, typical composite deck boards are more susceptible to absorbing moisture. By having absolutely no wood content, TruNorth deck boards provide extremely high resistance to moisture absorption, rotting, and mold, and still truly look and feel like wood.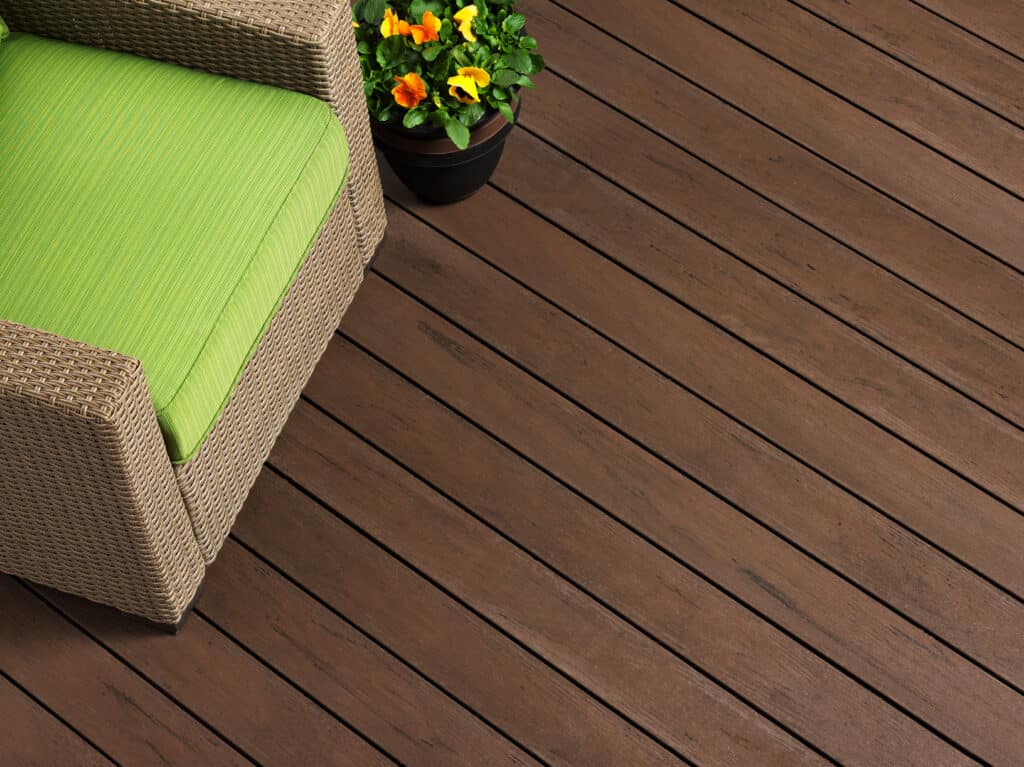 The rice hull formula doesn't just make TruNorth perform better than the average composite deck board, it is also the secret behind what gives TruNorth decking a wood-like appearance with a natural feel underfoot. And another reason for deck owners to feel good? The fact that TruNorth composite decking is made of 95% recycled content.
Now that we've covered the inside, let's talk about another important distinction between TruNorth and other composite decking – the outer shell. Many composite deck boards will only put a protective layer on one to three sides of the deck board. The high density polymer cap on TruNorth composite decking is coextruded simultaneously to the rice hull core, permanently bonding all of the layers and encasing the board on all four sides.
Joined together, the rice hull core and the protective outer layer create a high quality deck board that has been proven to be 5 to 8 times more durable than other composite boards when tested against abrasive forces. Highly resistant to scratches, dents, and scuffs, TruNorth is available in a palette of 12 variegated wood tones and designer colours that will continue to look good years after you first install your composite deck.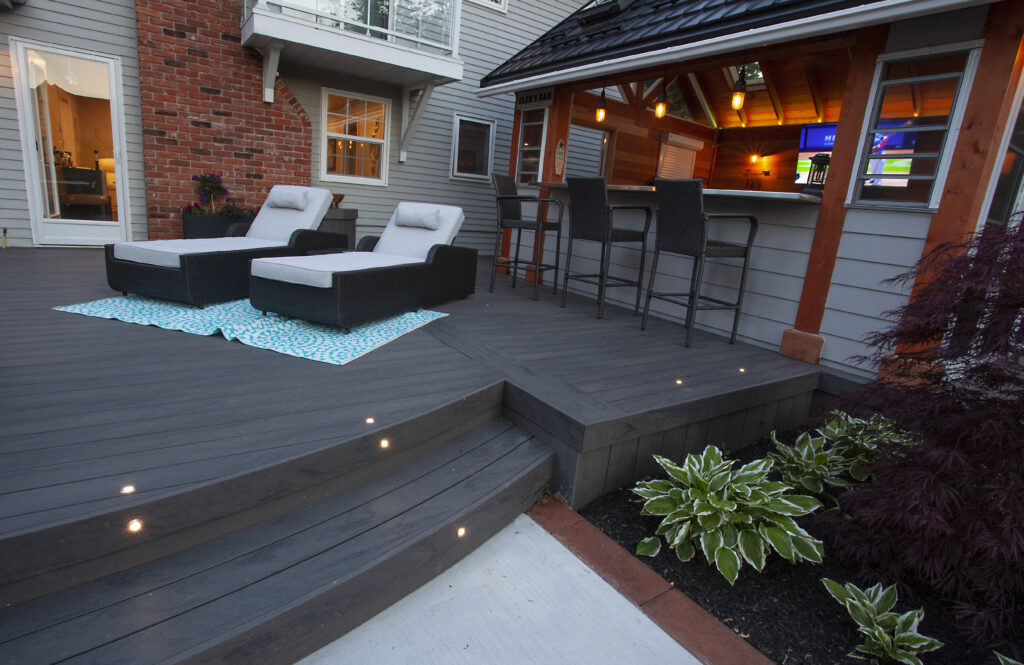 Benefits of TruNorth composite rice hull decking include:
Free of wood fillers and toxic binding agents
Eco-friendly, made of 95% recycled materials
Rice hull formula gives it the warmth and feel of real wood
No wood means no rot, mold, mildew, warping, or cracking
25-year Fade and Stain Warranty
Why Choose Clubhouse PVC Decking?
Clubhouse Decking showcases the beauty of nature with a new generation of PVC decking that incorporates advanced material science, world-class engineering, and patented performance manufacturing.
First, we'll look at the inside. Like other PVC decking, Clubhouse is made of polyvinyl chloride, but that is where the similarities end. Our decking is made with Korelite, our exclusive, proprietary technology. Korelite provides a dense cell structure for superior strength underfoot while still being lighter weight than regular PVC and much easier to handle. In fact, the core of our Clubhouse decking is engineered just like an I-beam, with a higher density top and bottom.
Clubhouse's ingenious capstock technology is blended into a specialized single-extrusion process that produces a truly stunning low-gloss, natural matte finish that resists oxidation, clouding, fading, and staining far beyond that of traditional composite decking or plain PVC decking. The 4-sided high-performance capstock acts like a stress skin panel, providing an unprecedented level of protection to the boards and to your deck. Going a step further, Clubhouse Ultra PVC decking also offers the added safety and peace of mind with a Class A Flame Spread Index.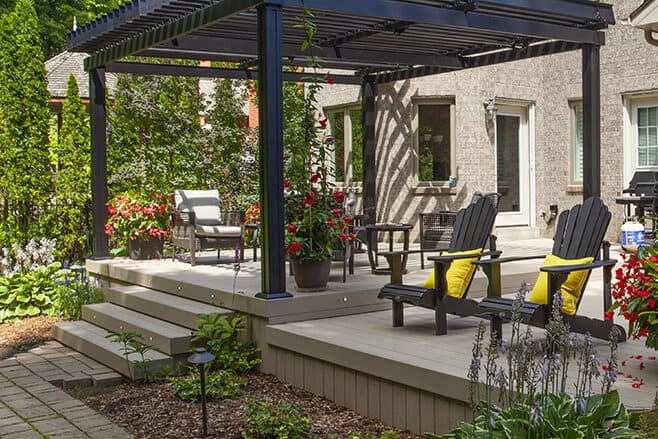 Another benefit of Clubhouse PVC decking? It keeps its cool – as much as 30% cooler than other decking, that is. Using heat blocking technology, Clubhouse PVC decking stays more comfortable for your family and your pets so that you can continue enjoying your deck all season long.
If you live in a humid environment, an area that gets a lot of precipitation, or plan to build your deck near a body of water or a pool, you may be worried about moisture absorption. Clubhouse PVC decking is a great choice for wet and humid climates or environments with extreme temperature changes. Clubhouse decking withstands the harshest conditions, maintaining its beautiful colour and wood grain texture like no other PVC decking.
And when it comes to exceptional style, Clubhouse PVC decking excels there too. While some PVC decking simply looks like, well, plastic, Clubhouse has a beautifully natural wood grain texture that mimics the look and feel of hardwoods. Available in 10 variegated and solid shades, you're sure to find a colour you love. In addition, Clubhouse PVC is extremely bendable for freedom and flexibility to design the deck of your dreams.
Benefits of Clubhouse PVC decking include:
Exclusive Korelite technology
Stays up to 30% cooler than competing PVC decking
Advanced colour technology for longer-lasting good looks
Limited Lifetime Performance Warranty
25-year Fade and Stain Warranty
Composite Decking vs. PVC Decking
Now that you understand the benefits of each type of deck board – which is better for you? Composite decking or PVC decking?
Cost
PVC decking is generally more expensive than composite decking. With this price tag, you do get a few additional benefits when using PVC as opposed to composite decking.
Whichever you choose, both will cost less per year than what traditional wooden decking does. Plus, you'll save time and money on maintaining your deck, compared to a wooden deck.
Design
Composite decking and PVC decking offer a seamless design with no colour fading, warping, or cracking. This means that both types of deck will look as good as the day you installed them for years to come.
While both composite and PVC decking can be bent, PVC is much easier to do so. Clubhouse Decking is the best board for projects that involve heat bending for those unique curved decks. We are so sure of this, that we'll even warrant your Clubhouse Decking after it's been bent.
When comparing PVC and composite options, you may find that your ideal deck shade is available in one and not the other. Except for that, there is very little aesthetic difference between the two.
Installation
Both types of decking are easy to install and require less time and tools than are needed when installing a wood deck. Basic designs can also easily be installed without the need for a deck builder.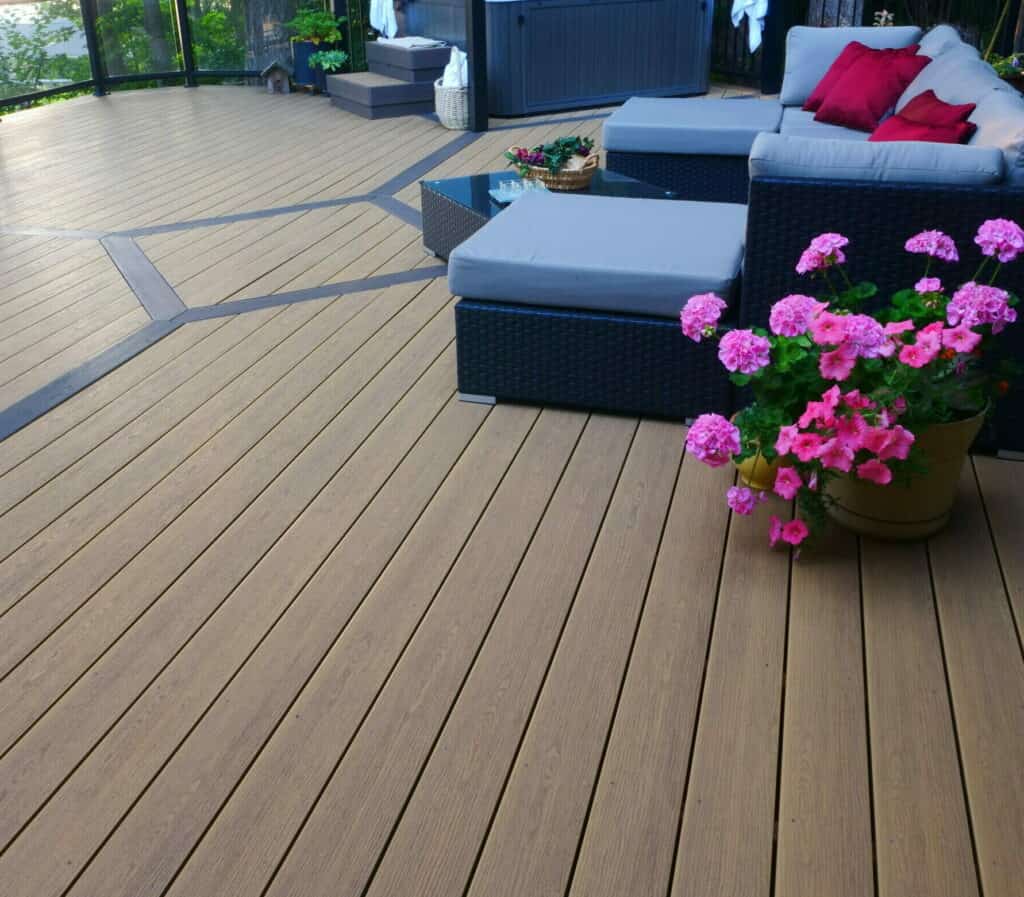 Which to Choose: Composite Decking or PVC Decking?
Having looked at the differences between composite and PVC decking, which is the best material to choose? Ultimately, it's up to you! Both options are significantly better choices than traditional wood decks.
Both composite and PVC decking are more long-lasting and require much less maintenance than wood. Neither will splinter, warp, crack, or rot, and both options are eco-friendly.
When deciding between the two, it will come down to your style and colour preferences, and possibly your budget. Whichever option you choose, you'll get a great-looking, high-quality, eco-friendly, and low-maintenance deck that you'll love for years to come.
When you make the decision to build a new deck, you have many things to consider. At the heart of the decision is looking at the different deck material options you have to choose from. Want an even closer look at your options for style, colour, texture, and finish? Order deck board samples to see and feel the quality of TruNorth and Clubhouse Decking for yourself.