Demand for outdoor decking is increasing drastically. This is in part due to the increased number of people wanting to socialize at home instead of in public areas. Therefore, more and more individuals are looking to optimize their living areas and create an amazing outdoor space, both for personal use, and social occasions. 
Along with increased demand, there are some noticeable outdoor decking design tips and trends to discuss. From creating larger decks to installing coverings and lighting, here are some of the most pronounced outdoor decking tips and trends. 
A noticeable outdoor deck trend of recent years is that decks being built are larger on average than in previous years. This trend is in part due to people wanting more outdoor living space in their homes.
This trend was originally driven by the pandemic and the restrictions it caused. During that period, people spent more time at home and weren't able to travel. This resulted in social gatherings occurring outdoors, driving the demand for larger decks to accompany more people, more often. That demand for more outdoor space has continued as restrictions have continued to be lifted.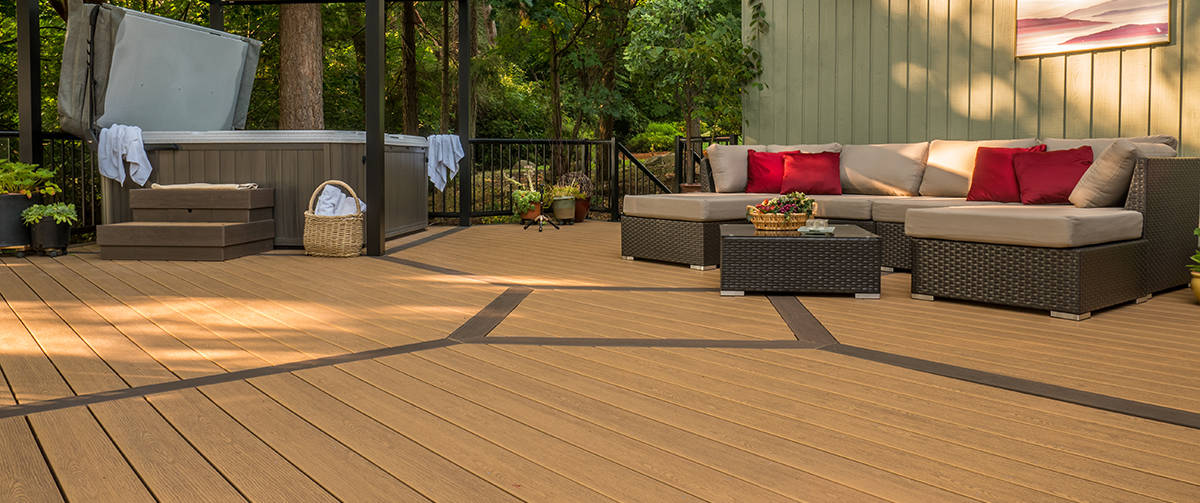 (Clubhouse Ipe and Walnut)
Another prominent trend is using decks to create outdoor rooms. These "rooms" include outdoor cooking and eating spaces, media rooms, and the like.
There's also a trend for extra features, like more decorations, rugs, and outdoor furniture to create the feeling of being in a room of a house, not just on a deck.
An additional deck design tip to keep in mind when creating your outdoor living space is to match your deck boards to the interior flooring. This technique will stretch out your house's interior to make the indoor and outdoor sections seamlessly blend into one cohesive space.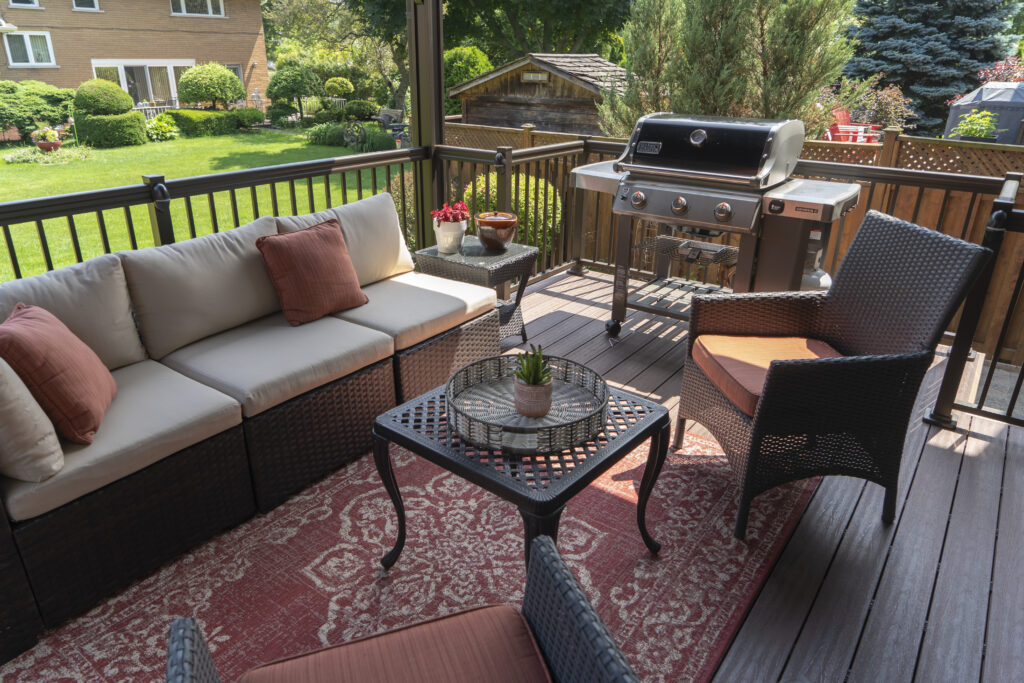 Combine the comfort of an indoor room with the enjoyment of being outside
(TruNorth Brazilian Cherry)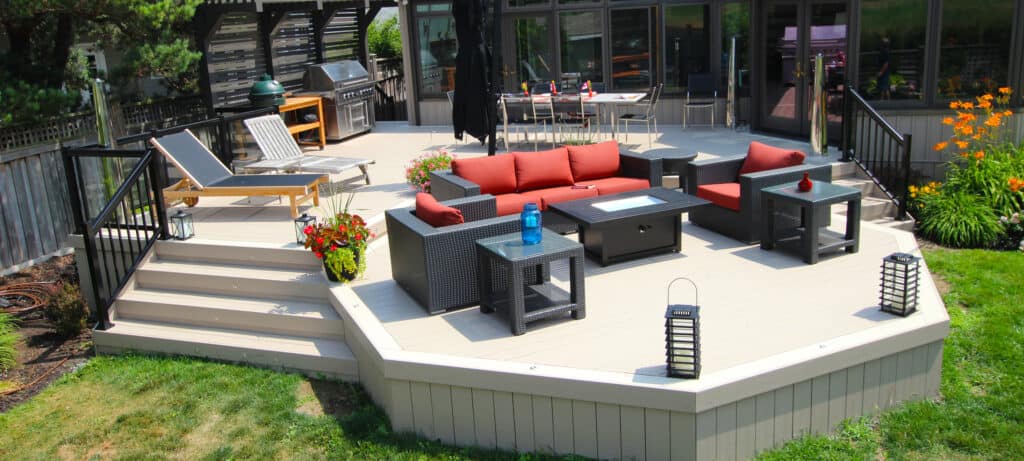 Ditch the standard rectangle shaped deck and get creative
(Clubhouse Clay and Sandstone)
When discussing outdoor decking design tips and trends, the use of custom shapes and styles must be mentioned. More and more homeowners are opting for unique shaped decks such as ovals or octagons.
We're also seeing more multi-level and double-decker decks, which means the demand for stairs in deck designs is increasing too.
The most popular deck colours at the moment are natural tones. These include browns and specifically cedar, redwood, and honey tones.
If looking for these shades yourself, be sure to check out Clubhouse's Hardwood Collection and TruNorth's Variegated colours! What's great about the decking under both of these lines is that they have heat-blocking technology. Therefore, you can confidently choose our dark-coloured boards, even if you live in a warm climate, and won't need to worry about overheating or fading.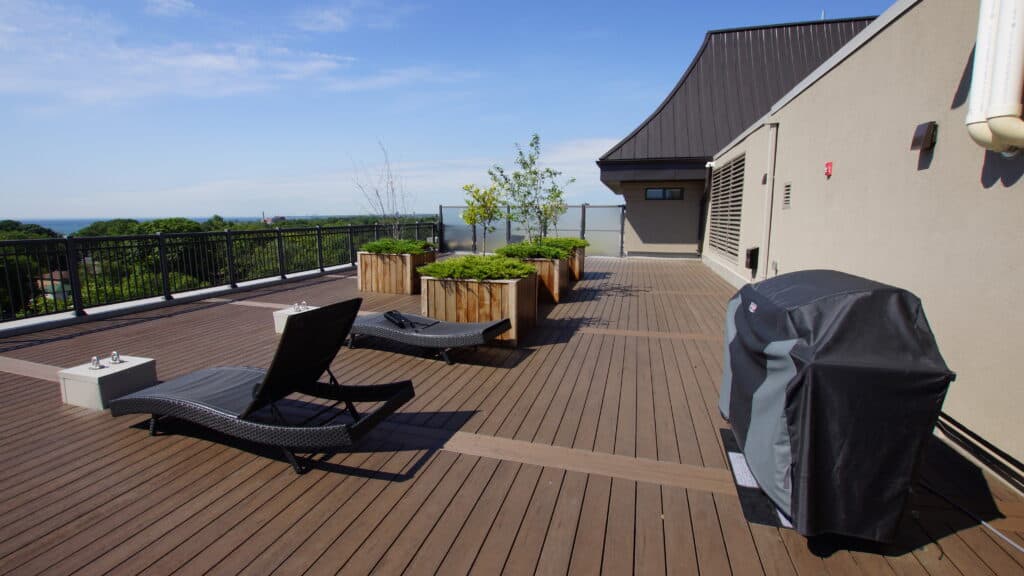 Even for a sunny rooftop deck you can confidently choose our darkest tones
(TruNorth Tropical Walnut)
In addition, dual or multi-colour decks are growing in popularity to create unique designs with trim and patterns. If considering using multiple colours in your design, Clubhouse PVC colours are available in dual-colour boards under the Clubhouse Legacy line. Therefore, you can purchase one set of boards to create a deck with two complementary colours featured.
Another trend is the demand for deck colours that are long-lasting and non-fading. Again, composite and PVC decking both come out on top as they are much more resistant to fade and other damage than lumber. Both TruNorth and Clubhouse Decking are covered by our 25-Year Fade & Stain Warranty to give you peace of mind.
Move to Composite Decking and Other Alternatives to Lumber
One very noticeable outdoor deck trend is a move from lumber to composite decking and similar alternatives like PVC decking. As mentioned, these alternatives to lumber hold colour much better and are unlikely to fade. 
In addition, lumber alternatives are much more eco-friendly and have a premium quality, being less likely to rot, mold, or warp. For example, TruNorth composite decking is wood-free, made from 95% recycled materials, and uses a strong rice husk formula to ensure there is no rotting or molding. 
Another factor influencing this trend was lumber shortages and the resulting increase in prices for wood decks. Previous shortages caused steep price increases, resulting in the price gap between lumber decks and alternatives decreasing drastically. 
Plus, the lifetime cost of alternatives, like composite decking, has always been lower. Therefore, the increase in the cost of lumber has made alternatives even more affordable over their lifetime (which can be as much as over 25 years!).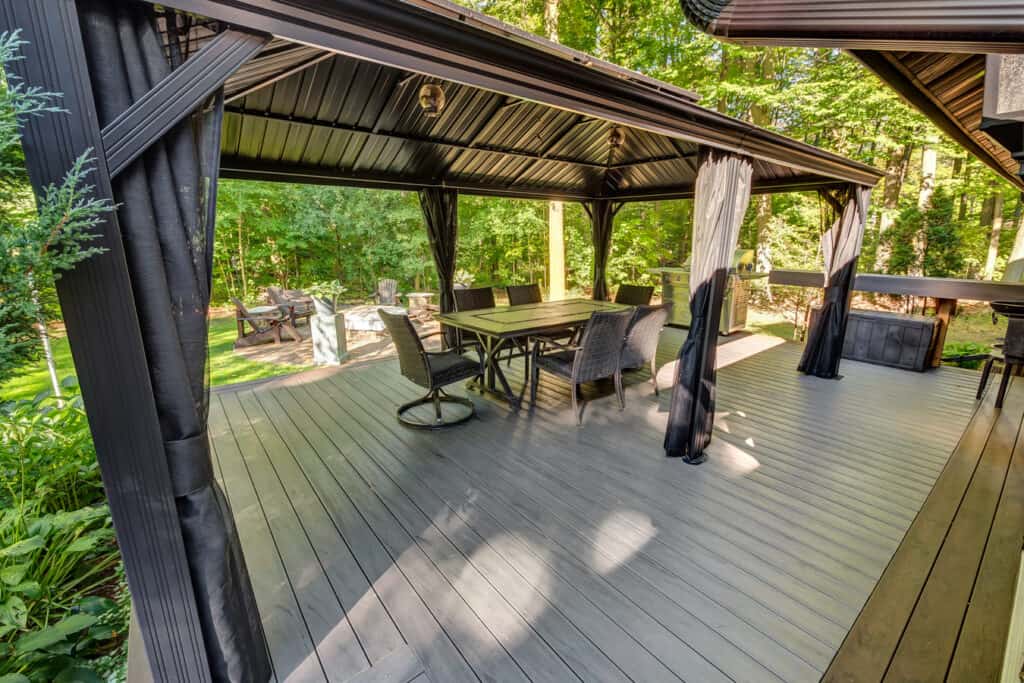 This TruNorth deck is several years old and still looking as good as new!
Wood decks can't compete
(TruNorth Ash Grey and Tropical Walnut)
Increased Demand for Pools and Spas
An additional deck trend is the increase in outdoor pool and spa installation. External trends, such as being at home more and increased temperatures, have led, in part, to this trend occurring.
With pool or spa installation comes the need for surrounding decking. Again, composite decking and long-lasting alternatives to lumber come out on top for this use. This is because of their water and slip resisting properties, and the lack of dangerous splinters or loose nails and screws.
In the past year or so, there have been more coverings being added to full decks, not just over porch-style decks. Again, this is likely due to demand for outdoor "rooms" that can work in any weather.
Covered decks make for great eating or recreation areas, as they protect from rain and other elements that could interfere with your activities.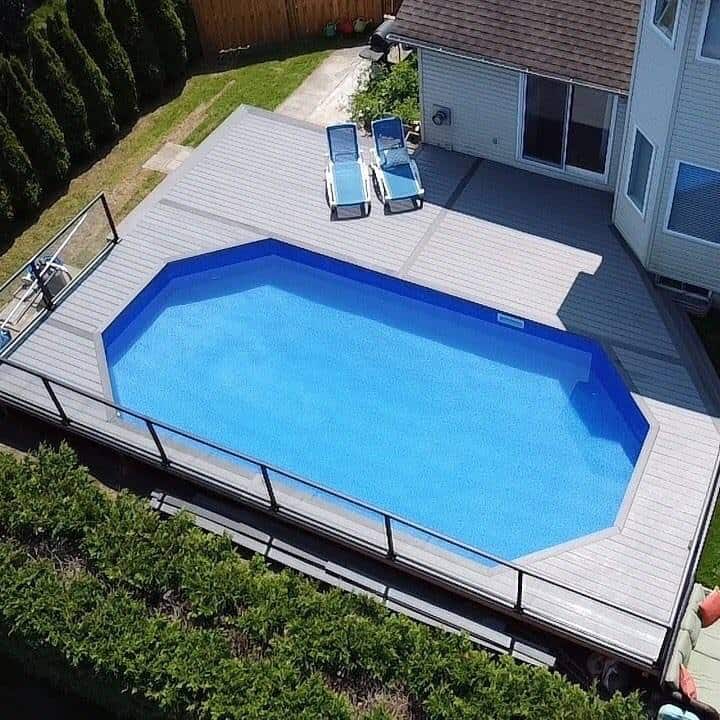 Our heat-blocking technology and excellent slip resistance let you comfortably exit your pool or hot tub
(TruNorth Amazon Grey and Ash Grey)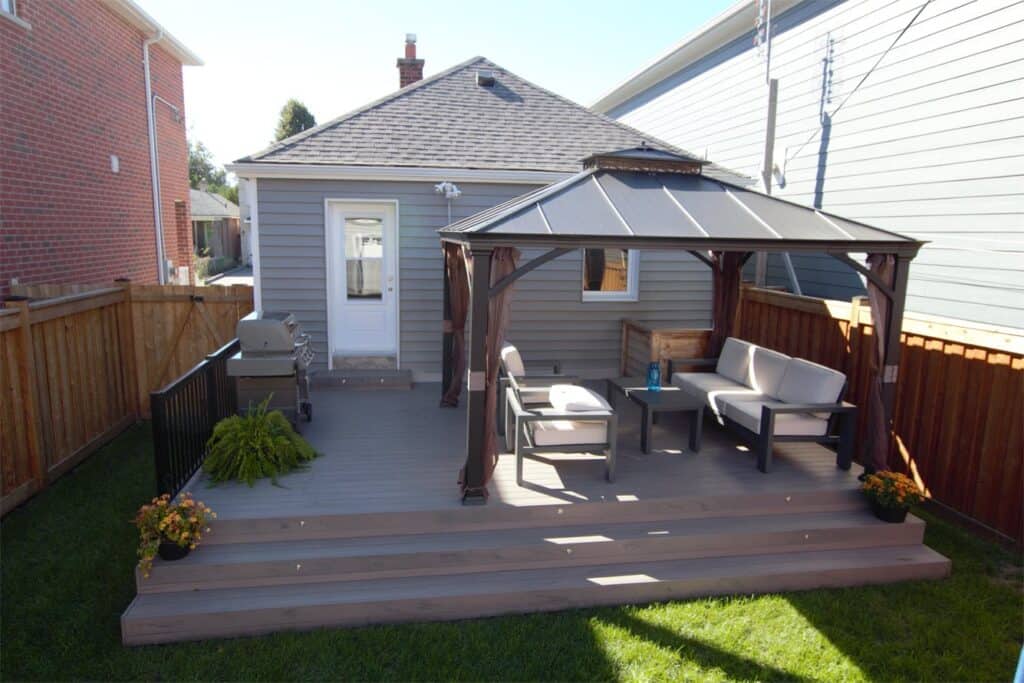 Enjoy your outdoor space, rain or shine, with a covered deck
(TruNorth Hazelwood)
Another trend led by the desire to be outside at home more is the addition of heating structures, like heat lamps or fire pits, to decks.
These heating features allow for outdoor get-togethers to be held comfortably during colder times of the year and those chilly summer nights. If combined with a covered deck, you and your guests can stay warm and dry to relax while it's raining. Add a heat source to your TruNorth deck to start your deck season as early as possible, and to extend it into your region's colder months.
The addition of built-in lighting to deck designs has been another significant deck-styling trend. The desire to spend more time outdoors at home results in the need for lighting once it gets darker at night.
Deck lighting is commonly added to steps and stairs – this adds not only to the looks of the deck, but also to the safety of those walking on it. Stair lighting increases visibility of stairs as it gets darker outside, which prevents tripping and falling.
Lighting is also being used as a style feature. Installation of lighting can make decks more unique and customized to each homeowner's personal taste.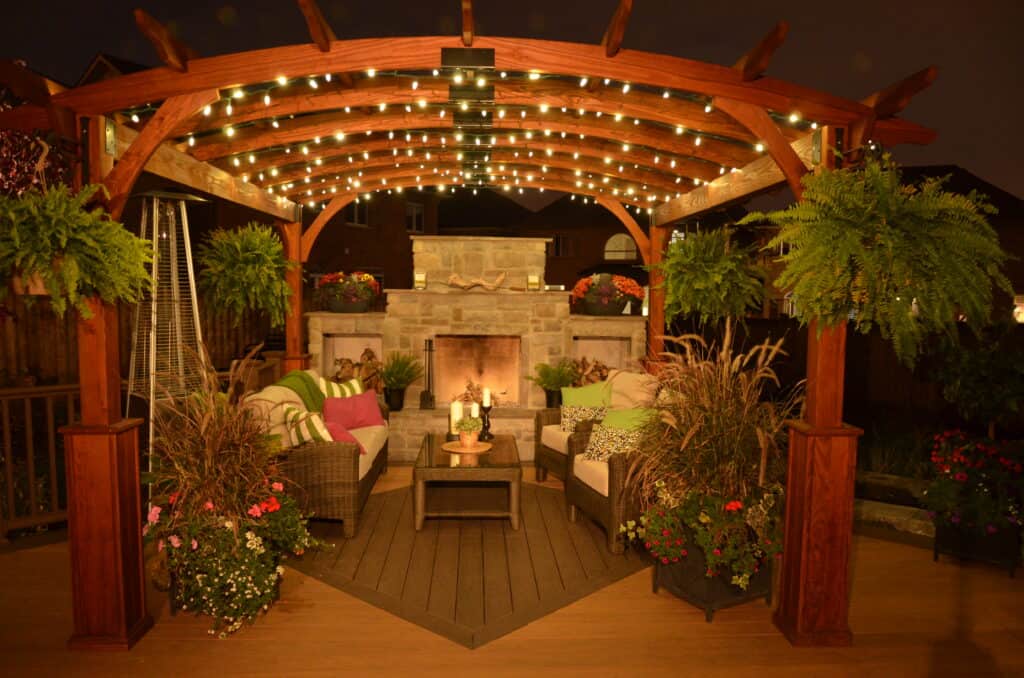 An outdoor fireplace is just one of many ways to add some warmth to your deck
(Clubhouse Ipe and Walnut)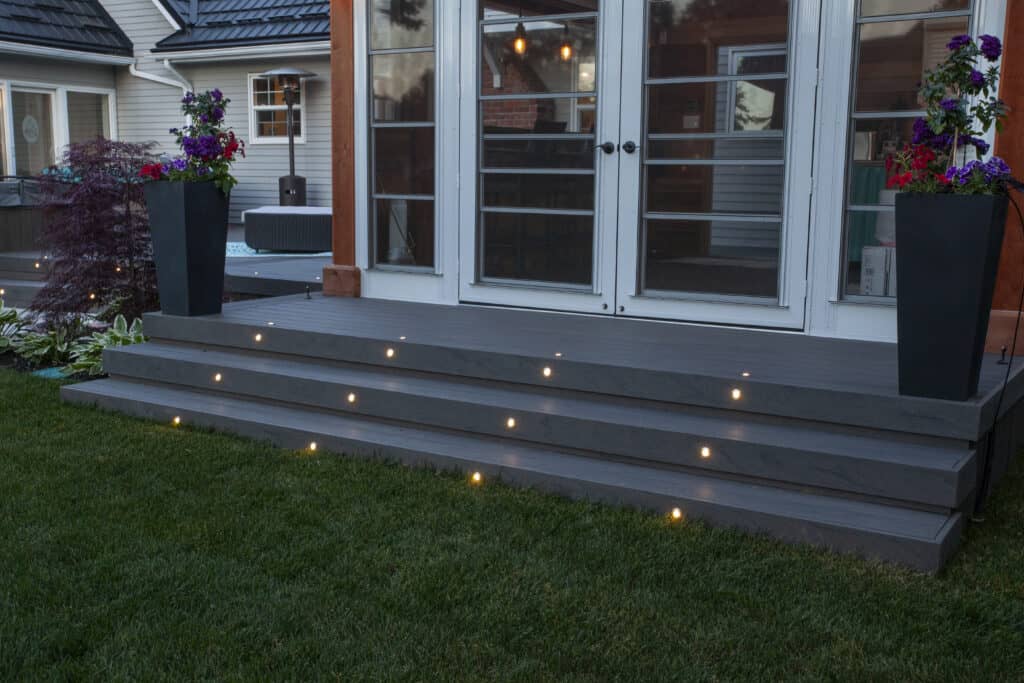 Lighting up your deck steps not only looks great, but improves safety, too!
(TruNorth Ash Grey)
While railing is a safety requirement for decks of a certain height, more and more decks are using high quality railing to increase the visual appeal. Metal railing is a popular choice that is both sturdy and aesthetically pleasing. Glass railing is also popular, as it can allow for an obstructed view of surrounding scenery, and some can even be installed with built-in lighting for unique looks at night.
Drink rails are another great option. These use a flat surface on top of the railing to allow for drinks and other objects to sit without falling off. Using TruNorth or Clubhouse Decking boards as the top rail, you can create a functional rail that also matches your deck's colour scheme perfectly!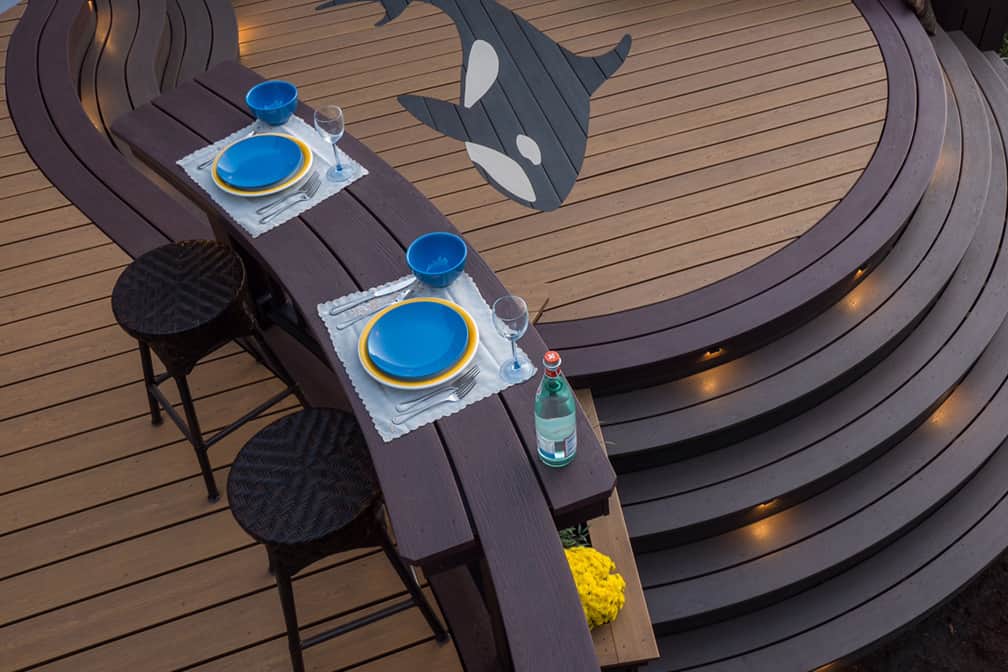 Drink rails add major functionality to your deck while looking amazing!
(Clubhouse Ipe with Mahogany drink rail and Walnut steps)
Thanks to improvements in composite and PVC decking technology, deck board bending is becoming a much more common practice, and therefore, a more common request from clients.
There are several ways to include curved deck boards in a deck build. They can be used as a border, an inlay design, a curved drink rail, steps and stairs, or whatever else you can imagine in your design.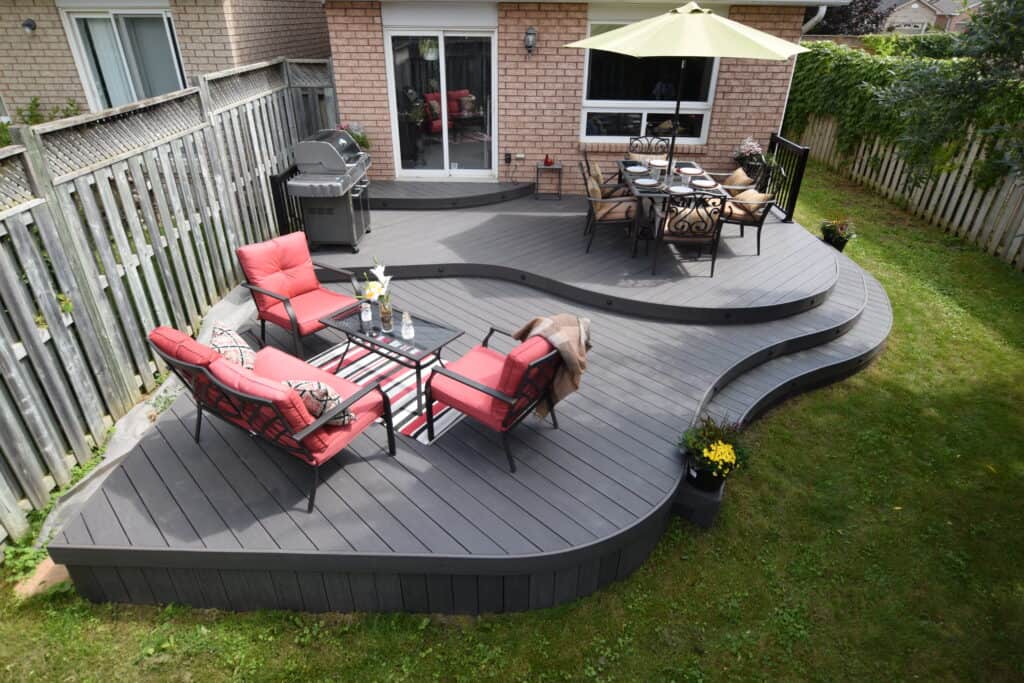 Curves can add a ton of personality to your dream deck
(Clubhouse Ironwood)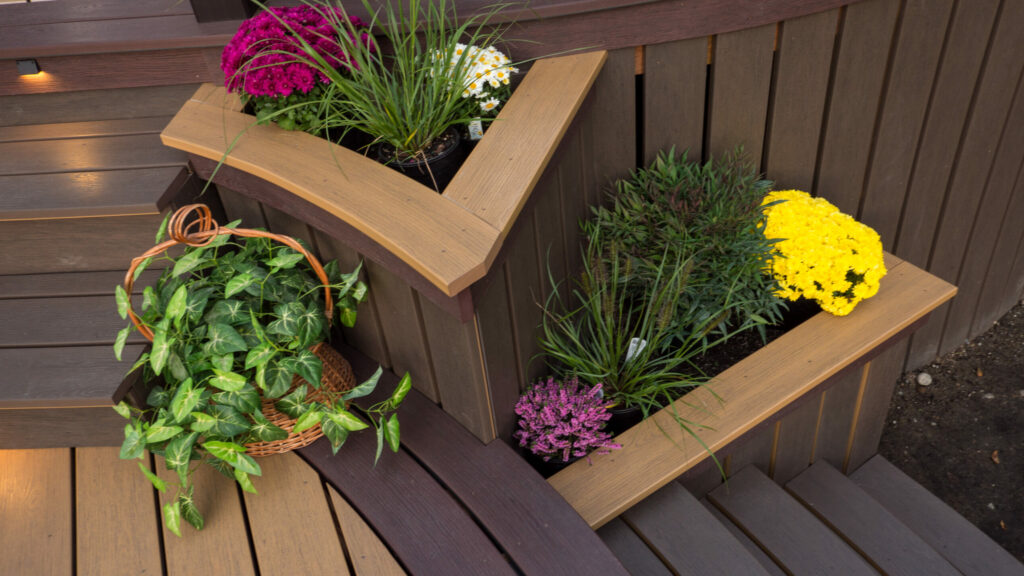 How will you implement curves in your deck?
(Clubhouse Ipe, Walnut, and Mahogany)
With Clubhouse Decking, getting a gorgeous low-maintenance deck with luxurious curves is more accessible than ever! Clubhouse's cellular structure allows it to be bent in all kinds of ways, and without any bubbles, warps, or other flaws. If you're considering having curves in your new deck, keep in mind that the process requires specific equipment that not every deck builder will have access to. After all, deck bending is still a fairly new practice (but that just makes it more elusive!).
If you're thinking of installing a deck soon, be sure to keep these decking design tips and trends in mind to ensure your deck is as trendy and stylish as possible.
Has this article convinced you to use composite or PVC decking instead of boring old lumber? Then check out TruNorth composite and Clubhouse PVC deck boards to learn more about the benefits of these wood-free alternatives, and the beautiful styles available.
Still need some deck design ideas?
Check out our Inspiration Gallery!