Built to stand the test of time
Our rice hull fiber composite is proven to resist water penetration, which means your beautiful deck will not mold, rot, or swell. Our proprietary capping helps keep your family safe from slips and slivers, prevents spilled liquids from leaving a permanent stain, reduces heat retention and minimizes fading from harsh weather.
This graph shows the true quality and durability of a TruNorth deck. When tested against our competitors, we have been proven to maintain up to 5X – 8X more mass when tested against abrasive forces – only having lost 0.0231g of its original weight. Whatever Mother Nature has in store, we are ready for it! We guarantee the best quality decking suited for your unique backyard.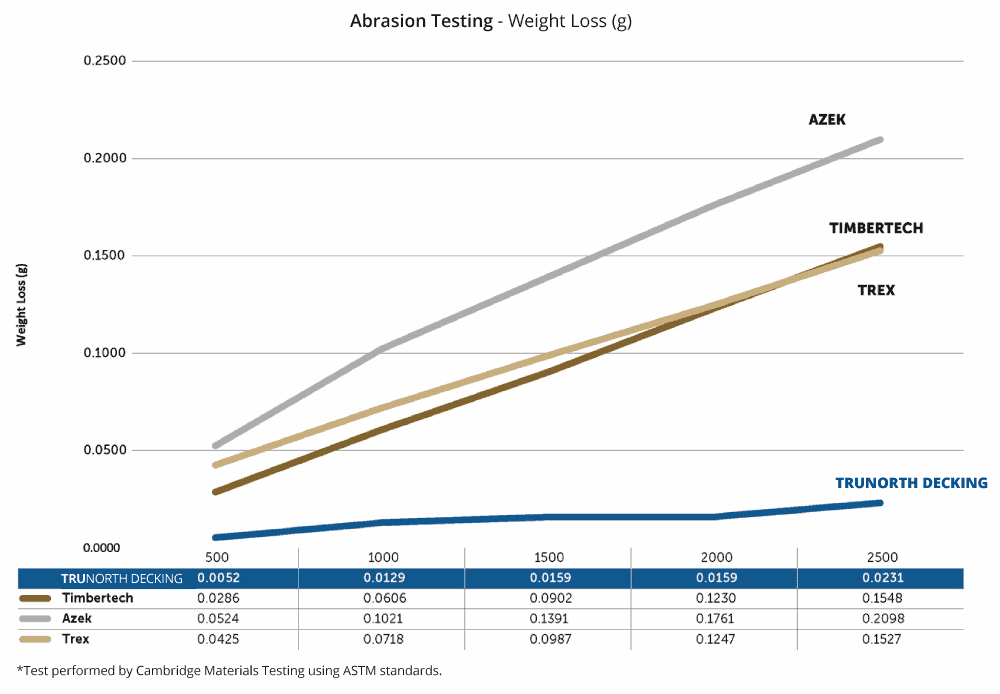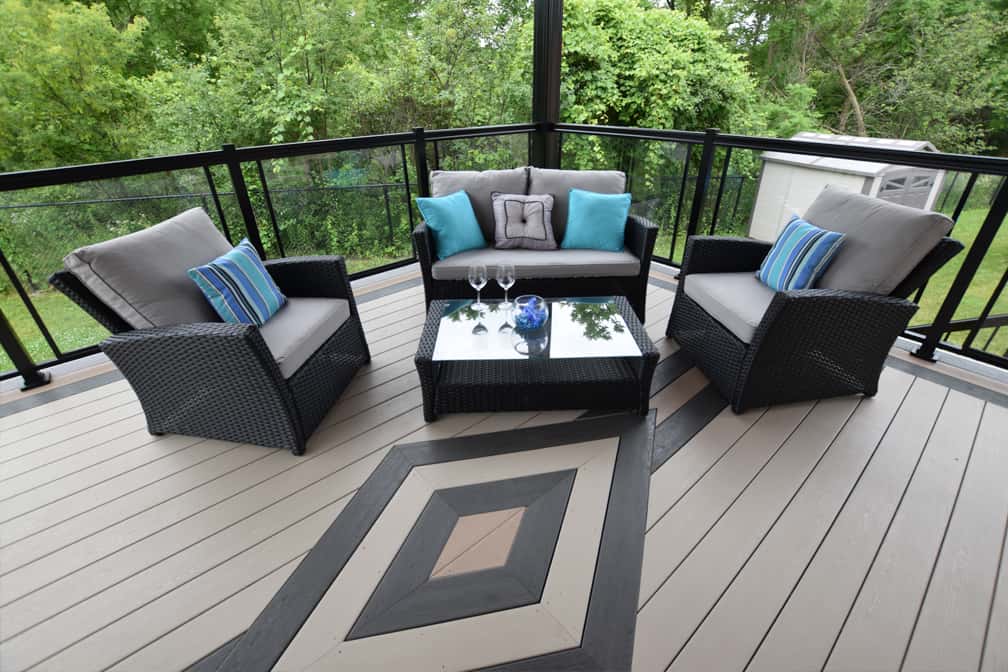 World-Class Materials Science.
Performance Defined.
Clubhouse Decking is made with advanced colour technology that has been field tested and proven for more than 30 years to stand up to the harsh effects of UV, rain and humidity.
Clubhouse composite decking is made with Korelite, our exclusive, proprietary technology that provides a dense cell structure for superior strength underfoot. Leveraging world-class, in-house materials, tooling, and manufacturing capabilities, Clubhouse is engineered with a higher density top and bottom – just like an I-beam. The 4-sided cap high-performance capstock and foam interior act like a stress skin panel providing unprecedented protection to the boards and your deck.
Clubhouse Decking has no wood or wood fillers to warp, rot, or break down. But it does have a proprietary formulation that produces a super-dense structure that is impervious to water and provides dramatic strength and protection against impact. In our single-extrusion process, our PVC core and proprietary blend capstock become one. Both the cap and the core are made of like material, creating a stronger chemical bond during extrusion for incredible results and superior strength. In addition, the dense cell structure allows Clubhouse decking to be heated and bent without bubbling up and compromising the wood grain texture that makes Clubhouse decking so eye-catching.
Details That Make All The Difference
To masterfully finish your TruNorth deck, you'll want a technologically superior fastening system made to the same exact standards as your decking. Our complete line of deck accessories includes TruNorth Slide & Go Fastening Clips, Clubhouse ConnectClip fastening system, and the Clubhouse Dexerdry Weather-diverting System.