Having trouble selecting a colour? Start with the basics!
TruNorth composite and Clubhouse PVC decking can be grouped into three basic colour families – greys, browns, and reds. We also offer two colour styles, variegated and solid, as well as dual-coloured deck boards that offer the ultimate design flexibility.
All of our decking colours offer their own individual variations making each one distinct and evoking a different mood. Greys ranging from the lightest Brookstone to the deepest charcoal of Ironwood. Cream coloured hues warming up to golden browns like Brulee and darker shades of Walnut. And an array of reds from Brazilian Cherry to the fiery undertones of Tigerwood and the intensely rich Mahogany.
Check out a few of our colour selecting tips!
Look to Nature For Inspiration
Try choosing a deck colour that complements the surrounding landscape. A bold colour with red undertones can be a great match for an outdoor space with a lot of greenery to complement the dominant hue. A more colourful yard, on the other hand, might look best with a more neutral colour in either grey or brown tones. Take your colour cues from nature and reflect the style and tones of your garden. Let your environment and the elements surrounding your deck inspire your design.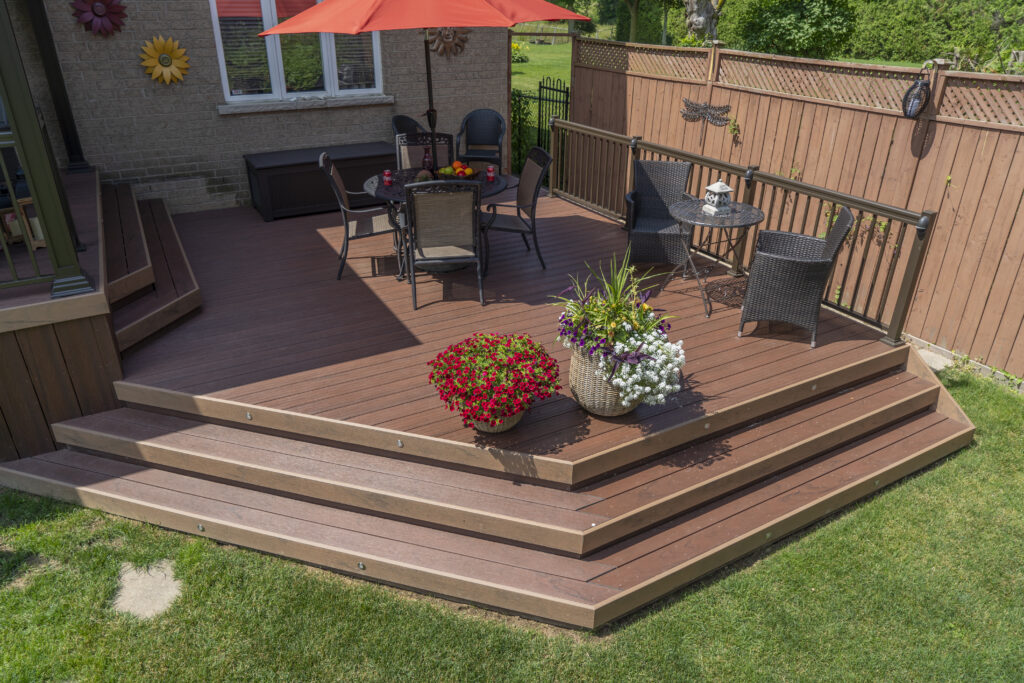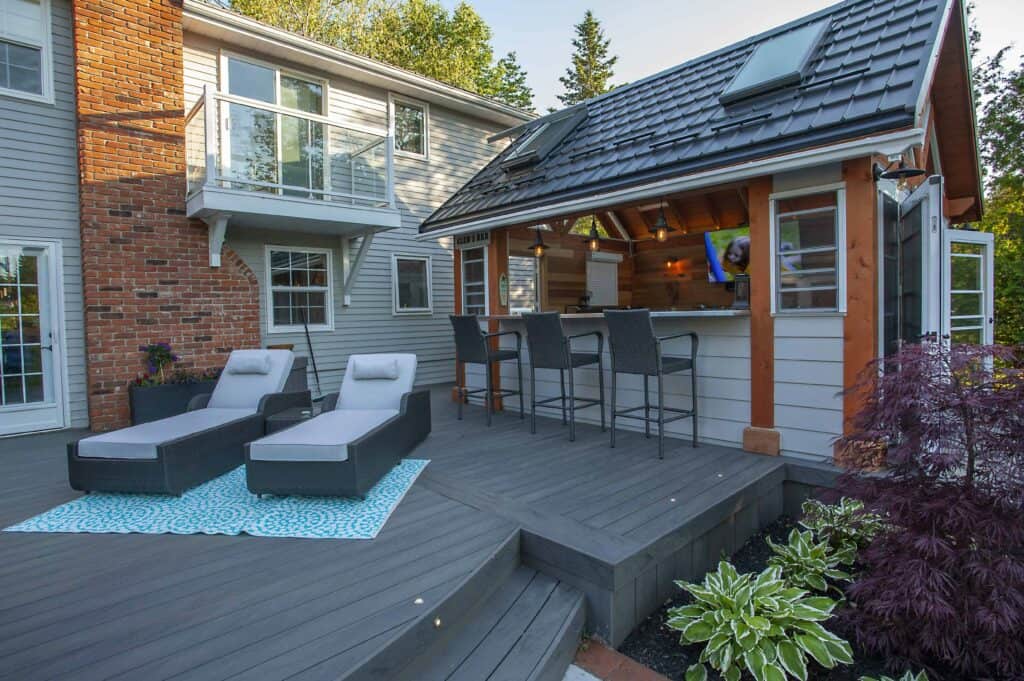 To Match, Or Not To Match?
When choosing a colour for your deck, you should always consider the colour of your home's exterior. The most common advice is to choose complementary colours instead of matching your deck to your home's exterior. However, for some projects, choosing a colour similar to the exterior helps to blur the division between inside and outside, creating a more seamless look that visually blends the spaces of your home. Matching the colour of the interior flooring adds an even greater space-stretching effect. Other ideas for drawing inspiration from your home include matching your deck to the colour of your home's trim, roofing, window frames, and even doors.
Make your deck feel like an extension of your home by using a colour similar to the exterior (Clubhouse Cobblestone)
You Can Choose More Than One Colour!
As you pore over your colour options, don't forget that you can always choose more than one colour! Decorative trims and inlays allow you to infuse your deck with your own personal touch for a deck that is uniquely yours. They can also be used to visually break up larger deck areas into more intimate spaces. Border and accent colours are typically darker than the primary colour, which can help make the edges pop. This not only increases visual appeal, but also improves safety by making steps and edges easier to see. Darker colours such as Ironwood and Tropical Walnut are commonly used as borders on decks with a lighter main colour.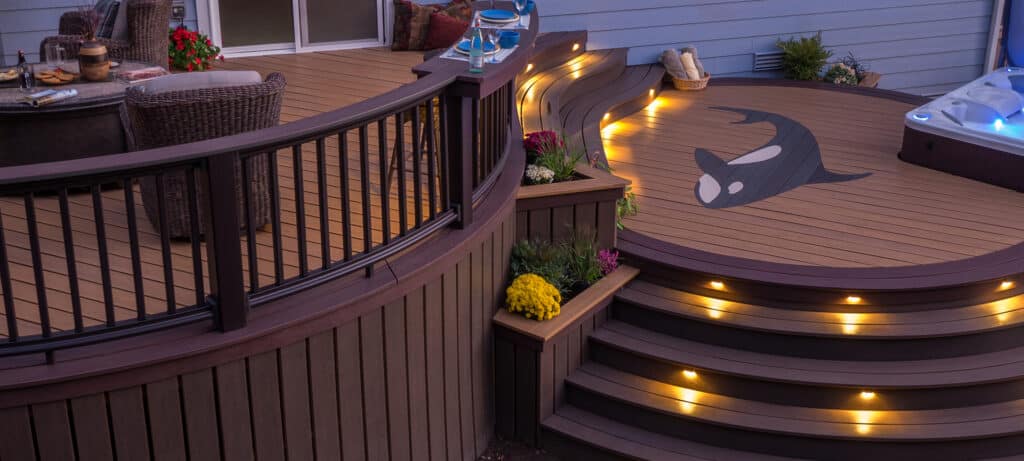 Don't be afraid to get creative!
(Clubhouse Ipe with Mahogany and Walnut accents. Ironwood and Sandstone for the orca whale inlay)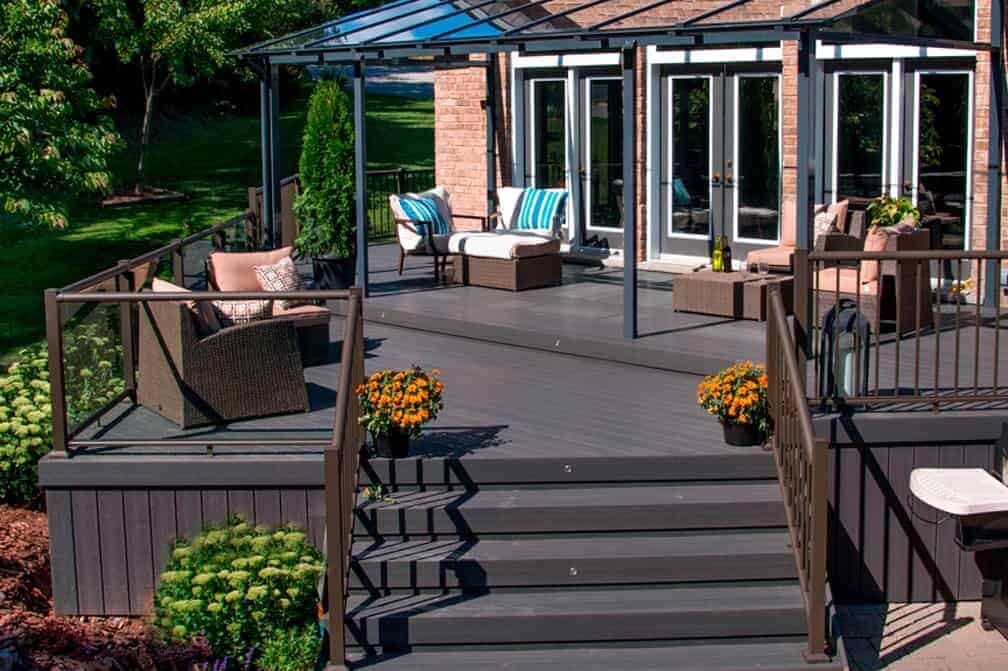 Have peace of mind when choosing our darker shades knowing our heat-blocking technology will limit the warmth in the sunlight
(Clubhouse Ironwood)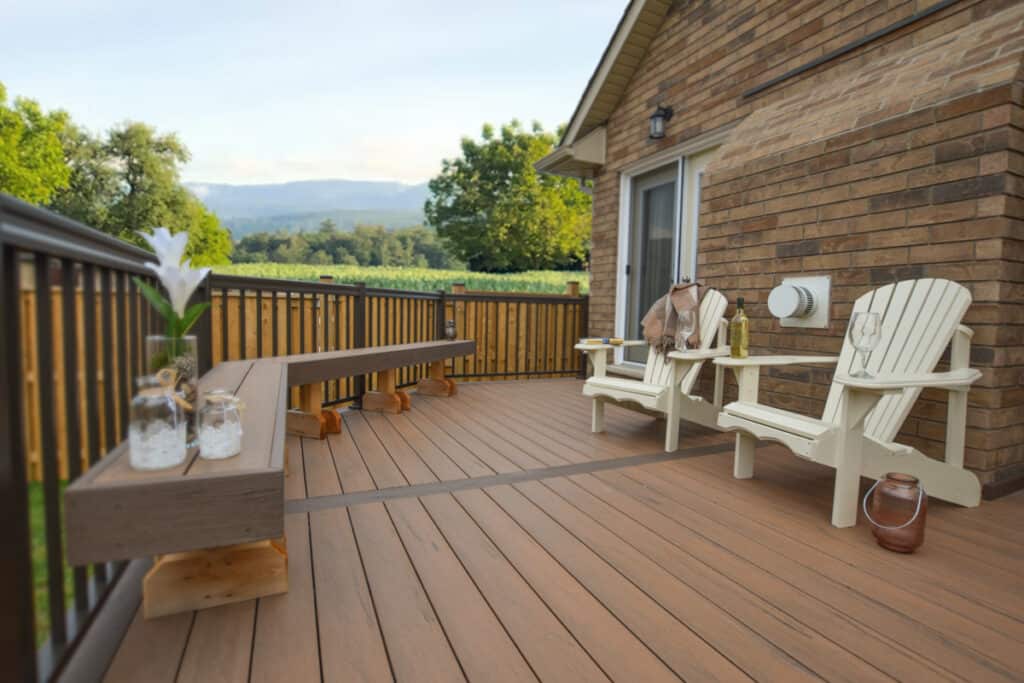 Order Samples to decide which colour scheme will be right for your home
(TruNorth Tigerwood with a Tropical Walnut accent)
While many composite decking manufacturers will steer customers away from darker colours in warmer climates or where the deck will be exposed to strong direct sunlight, at TruNorth, we say "Don't limit yourself or your imagination!" Choose the colours you love and want knowing that your deck will be up to 30% cooler than other composite and PVC decking. Thanks to advanced heat blocking technology, TruNorth and Clubhouse decks stay barefoot-friendly, pet-friendly, and comfortable in any season.
Looking for even more deck inspiration? Check out and follow our Instagram pages for deck design ideas, news, and more!
TruNorth Decking Instagram Page
Clubhouse Decking Instagram Page