Clubhouse Legacy PVC Decking
Enhanced Design Flexibility​
In the brightest sunshine or in the coolest shade, Clubhouse Legacy PVC Decking makes a statement. With an exceptional natural wood look and dual-colour, dual-embossed planks in two stunning collections, Clubhouse Legacy provides added flexibility and design options when planning your deck.
The Hardwood Collection offers four distinctive variegated grains that mix or match to give your deck a truly unique feel that's all your own. The Earthtone Collection features four style-driven solid shades that bring the look of painted luxury without the need for painted maintenance. 
Beautiful Colours That Stay Beautiful Year After Year​
All Legacy boards are made with advanced colour technology that has been field tested and proven for more than 30 years. Colours stay looking deep and rich for longer, and the deck boards will stand up to the harsh effects of UV, rain, and humidity for a long-lasting deck that looks as good as the day it was installed for many years.
The proprietary embossing technology used for all of our Clubhouse Premium PVC Decking creates an authentic woodgrain pattern that is unique on nearly every board.
Backed by a limited lifetime performance warranty and a 25-year fade and stain warranty, your Clubhouse Legacy deck will keep its good looks for years to come. Our patented dual-embossed, dual-coloured Legacy boards are 1" x 5 1/2" and are available in 12', 16', and 20' lengths in both grooved and square edge.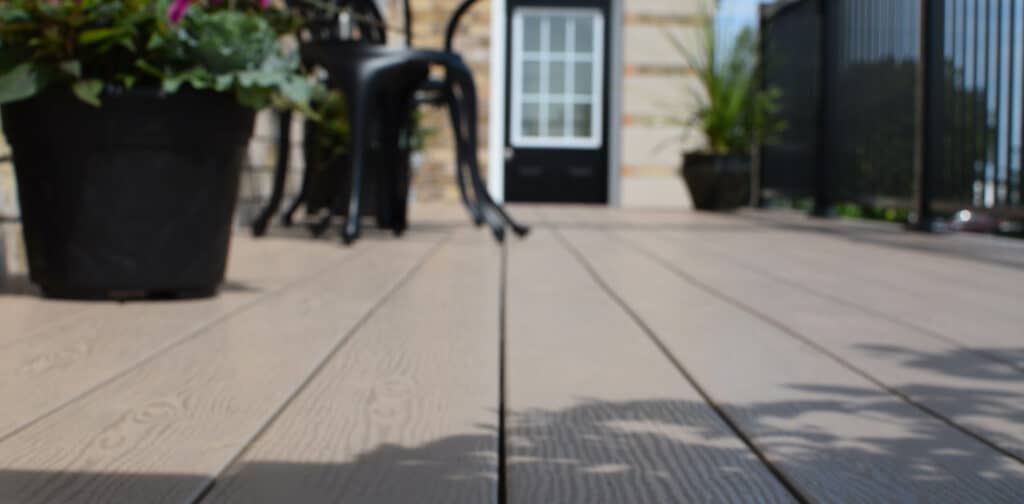 Unrivaled Performance, Strength, and Durability
Clubhouse Legacy decking features the same proprietary Korelite™ formulation as Clubhouse Ultra decking. The super-dense cell structure is impervious to water and provides superior strength and protection against impact. The core and its protective capstock are sandwiched together for incredible results with stunning natural wood grains and finishes.
With unrivaled performance and long-lasting good looks, Clubhouse promises a fresh, innovative approach to outdoor living.
Legacy decking is available in 4 combinations of 8 colours from our Hardwood and Earthtone collections. Complementary 1/2" x 12" x 12' fascia boards are also available in single-colour matching hues.
Top-of-the-Line Bendability
Lightweight and workable, Clubhouse Legacy PVC decking can also be heated and bent easily, thanks to a dense cell structure, without causing any damage to the decking's wood grain texture. With Clubhouse Legacy, you'll have the flexibility of a dual-coloured board and the freedom to create stunning designs with unique shapes and styles that just aren't possible with other types of decking. And even once bent, all Clubhouse Decking is still covered by our warranty!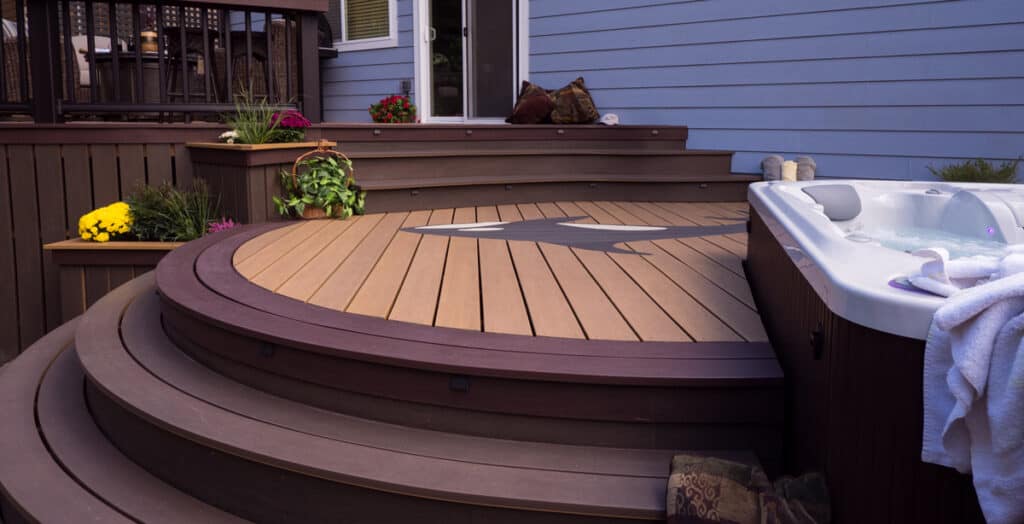 Long-Lasting, Low Maintenance
Clubhouse Legacy PVC Decking is designed to be incredibly long-lasting, beating out the lifetime of a wood deck by over 10 years! You won't have to worry about common wooden decking issues, such as rot, mold, cracking, or warping, thanks to no wood or wood fillers being used. Dangerous splinters are a thing of the past too! And with Legacy decking, you can also say goodbye to sanding, repainting, or restaining.
Legacy Decking is Always Eco-Friendly
All Clubhouse PVC Decking, including the Legacy line, is made using plastics that can be recycled by us, or other PVC recyclers. Best of all, no trees ever need to be cut down to create our decking, allowing for a design that's beautiful, long-lasting, and good for the environment.
Advanced colour technology for longer-lasting good looks
Engineered for strength with exclusive Korelite™ technology
Proprietary wood grain embossing technology
Stays up to 30% cooler than other competing PVC decking brands
Extreme impact resistance rivals strength of hardwoods
Can be heated and bent without compromising
Low moisture absorption
Limited transferable
Lifetime Performance Warranty
Dual-coloured and dual-embossed for added design flexibility
Get a dual-colour combination with just one type of board
We know how important it is to actually see and feel the differences when comparing your options.
Clubhouse PVC decking from TruNorth is available in a wide range of colours and for any budget. With our online sample store, we've made choosing the right decking product easier than ever. Order free samples in any style and colour so you can be certain you're choosing the one that's perfect for you.