Clubhouse Colour Matched Cortex Hidden Fastening System
For stairs, perimeter boards, and other hard-to-reach areas of your deck, we suggest using our Clubhouse Colour Matched Cortex Hidden Fastening System. It is an excellent choice for establishing a strong connection between the screw and the joist, and it's the fastest, easiest way to hide trim fasteners in PVC. With screw plugs that are made from colour matched Clubhouse Decking materials, you'll have a perfect match.
Great for stairs, perimeter boards, and hard to reach areas
Cortex plugs blend seamlessly
Made from Clubhouse stock for perfect colour match
Available in all ten stylish Clubhouse decking colours
100 lineal foot package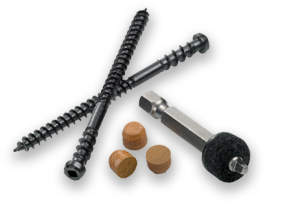 TORX® ttap® Drive System:
The TORX ttap Drive System is nearly impossible to strip-out. It's quick and easy to remove the deck fastener, and the stability button will keep the fastener straight throughout the installation of your deck.
Shorter & Faster Trim Screw:
The 2" fastener option not only delivers high levels of holding power but it also offers exceptional versatility for a wide variety of applications, including deck fascia, as well as exterior baseboards. And thanks to the dual lead thread design, it spins the fastener 50% faster than before for even quicker installs.
Stronger Setting Tool:
With stronger bit material and industrial-grade felt, the setting tool is optimized for extreme pro contractor use. You'll be able to install as many as 350 fasteners on just one Cortex Setting Tool!
View the Clubhouse Colour Matched Cortex Hidden Fastening System Installation Video: