Building a deck over a concrete patio presents a tremendous opportunity to transform your outdoor space into a more engaging and functional area. Whether you have an aged and worn concrete patio that needs revitalization, or you're looking to spruce up your outdoor area for aesthetic or functional reasons, this approach allows you to construct a captivating and inviting deck that perfectly integrates with your existing outdoor space.

However, prior to installing a deck over your patio, there are essential steps to consider, such as assessing the feasibility of project and strategizing your design effectively. This article aims to provide comprehensive guidance through the process, covering all aspects you need to consider when undertaking a project of this nature. Continue reading to discover how to build a deck over a concrete patio.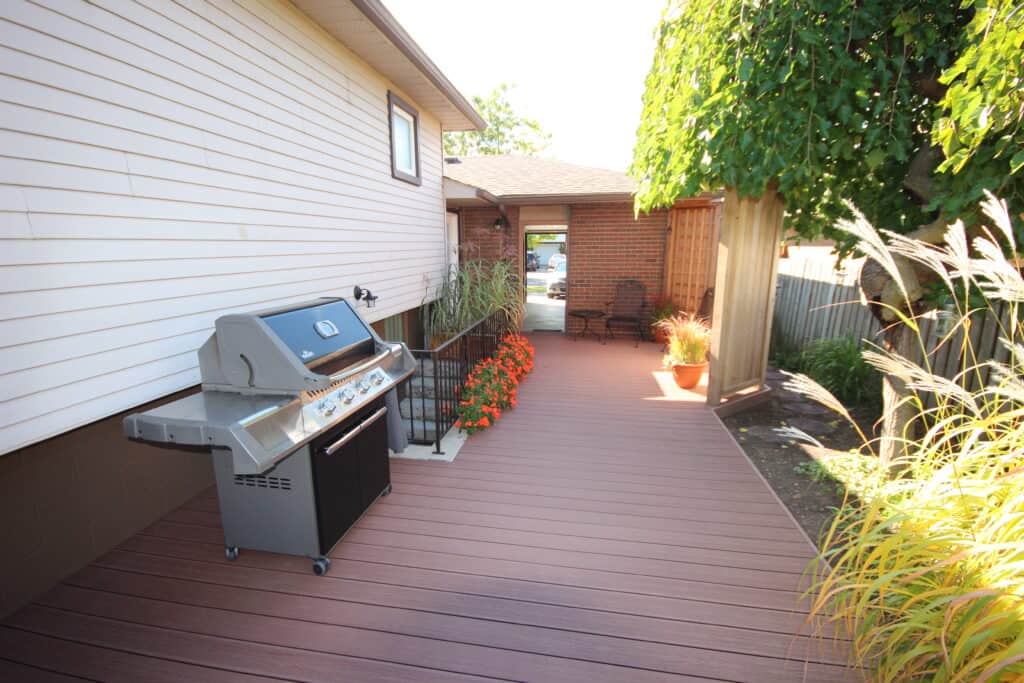 1. No Need to Remove Existing Concrete Surface
A primary benefit of building a deck over concrete is the ability to revitalize your outdoor space without the need for extensive demolition or removal of the existing concrete surface, which can be costly and time-consuming. Building over the current patio not only reduces waste but also has a smaller environmental impact.
2. Easy Expansion of Your Outdoor Space
Building a deck additionally brings the benefit of expanding your outdoor living area, providing more space for relaxing, entertaining, and generally enjoying the outdoors.
When building a deck over a concrete patio, you also overcome many limitations of the flat and plain surface that concrete provides. The addition of a raised deck offers an opportunity to create different levels or zones within your outdoor space, adding both visual appeal and functionality.
You can even incorporate unique features such as seating areas, outdoor kitchens, or a cozy fire pit. These additions create a noticeable impact, transforming your once ordinary patio into an inviting retreat.
3. A Blank Canvas to Showcase Your Outdoor Design Preferences
By building a deck over the concrete patio, you create a fresh canvas to express your personal style. When planning your decking project, you'll discover a variety of decking materials, colours, and textures.
Whether your preference is the natural look of wood, the low-maintenance advantages of composite decking, or the sleek aesthetics of PVC decking, you have the flexibility to choose a design that suits your taste and blends seamlessly with the surrounding landscape.
4. Increased Functionality
Beyond aesthetics, there are lots of practical advantages to incorporating a deck into your garden. Firstly, decking provides a comfortable and stable surface for outdoor furniture, making it easier to arrange seating areas or outdoor dining sets.

Additionally, the elevation of the deck helps to improve drainage. This prevents water from pooling on the surface of the deck and enhances the longevity of your outdoor furniture and accessories.

When building an elevated deck, you can also create a storage space by using the area under the decking. This is very practical in colder months when you want to store the furniture that's on your deck during warmer weather.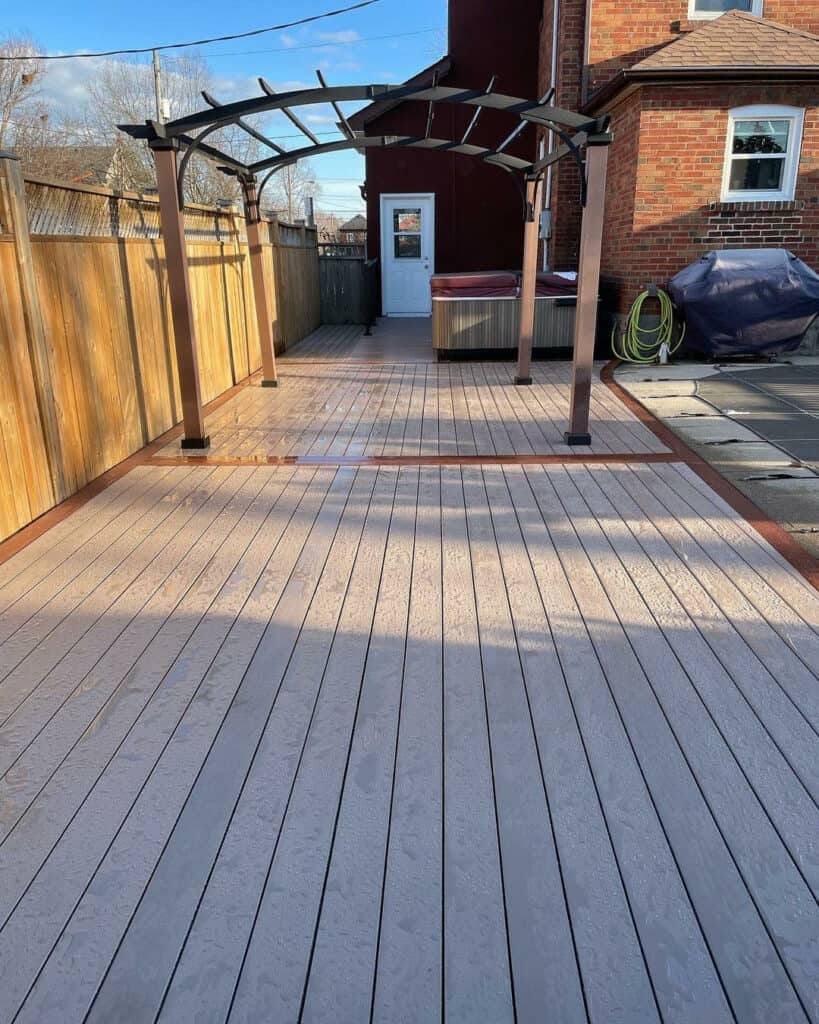 Assessing the Feasibility of Building a Deck Over Concrete
Before you start the project of building a deck over a concrete patio, it's important to assess the condition of the existing concrete surface to ensure its suitability. During this assessment, you'll determine if the patio is structurally sound and capable of supporting a deck.
This assessment could also help you identify potential issues with the patio, like cracking or sinking, that need to be addressed before you begin construction of your deck.
While it's possible to conduct an initial brief assessment yourself, it's always advisable to consult with a professional or a reputable deck builder for a thorough evaluation of your concrete patio.
Stability
First, check the stability of the concrete patio. This can be done by walking across the surface and noting any excessive movement, shifting, or cracking. If you notice any of these stability concerns, they could indicate underlying problems that could make the patio unsuitable for a deck in its current state. If you identify any structural issues, it's recommended to contact a professional who can assess the extent of the damage and provide solutions to ensure your concrete patio is ready for deck installation.
Levelness
The levelness of the concrete surface is another important factor. It's crucial for the concrete patio to be completely level to ensure the stability of the deck. The levelness of the patio can be checked easily using a level or string level.
If there is sloping or unevenness, this will need to be addressed before starting deck construction. Solutions include adding thin layers of concrete to uneven areas, using leveling compounds, or incorporating adjustable deck supports.
Other Deterioration and Things to Assess
You'll also need to look for other signs of deterioration and the overall integrity of the concrete to assess its long-term durability and resistance to moisture. Things to look for include cracks, spalling, and sinking, plus any other significant signs of wear and deterioration.
Small cracks are generally related to normal wear and tear and can easily be filled in. However, larger and more widespread cracking may suggest underlying issues and extensive damage that could mean the patio isn't in a good enough condition to have a deck built over it. If this is the case, contact a professional to find solutions for fixing your patio so that a deck can be installed. Lastly, consider the age of the patio and the thickness of the concrete. Older concrete is more likely to experience damage. Even if little damage is seen now, deterioration is more likely to occur, which can affect the safety and structural integrity of the deck you've built over the concrete.

Thick concrete will also work best for supporting the weight of your deck. If you have a thinner concrete patio, consider adding some additional layers of concrete to increase its load-bearing capacity.
Completing Your Deck Project
If after assessing your concrete patio, you decide a deck project is suitable for your space, you'll need to look into how to build a deck over a concrete patio. The following are the steps to keep in mind when completing your deck project.
Planning and Design
Before you begin work on preparing your concrete surface and installing the deck, it's important to look at planning and design.
Deck Design
In terms of design, you'll need to decide what size deck you want, the shape, and the layout. For example, do you want an elevated deck, a ground level deck, or a deck with multiple levels?

You'll also need to choose colours (what tone deck board do you want? Do you want a single shade, a two-tone design, or a multi-shade deck design?) and materials to use, which is discussed more below.

When deciding on design, keep functionality in mind as well. If you want a deck next to your home and your access door to the outdoor space is around ground-level, an elevated deck won't be an option. Or, if you have a smaller outdoor space, it's important to determine what size deck will enhance your space instead of overwhelming it. You'll also want to ensure the deck doesn't block any adjoining doors.

Even when choosing colours, consider your existing garden and any outdoor furniture you have. For example, if you have lots of vibrantly coloured plants, grey decking is an excellent complement to that. On the other hand, if your garden features lots of greenery, you may want to opt for more natural wood tones.

Need some ideas for your deck project? Take a look at our Get Inspired page, which features inspiration for all types of outdoor spaces and style preferences.
Deck Planning
There are also some planning elements outside of the design of your deck to keep in mind. Before embarking on your deck project, ensure you have obtained all necessary permits for adding this addition to your backyard, and make sure your chosen design complies with all local building codes. You can research this for yourself and obtain any necessary permits, or your deck builder should be able to help.
Preparing the Surface
The next step in building a deck over a concrete patio is preparing the surface of the patio for the deck installation. No matter what the condition of the patio, you'll need to sweep and then clean it well before deck installation begins. You can do this with soap and water or opt for more heavy-duty cleaning products and a power washer.

Next, repair any damage to the concrete patio, such as fixing cracking or sinking and unevenness. If you don't fix issues like these before adding the deck, your deck may face structural issues, such as low spots over the area sinking on the patio.

If significant damage has occurred, you'll need to call a professional to ensure the problems are adequately fixed and won't affect the structural integrity of your new deck.

You'll also want to ensure that the patio is completely level. If not, add a thin layer of concrete over uneven spots to level the surface out.
In addition, you may want to apply a bonding agent or primer over the concrete. This can help even out small imperfections and will help the thin layer of concrete bond to the original concrete if you've opted for that method of evening out the surface.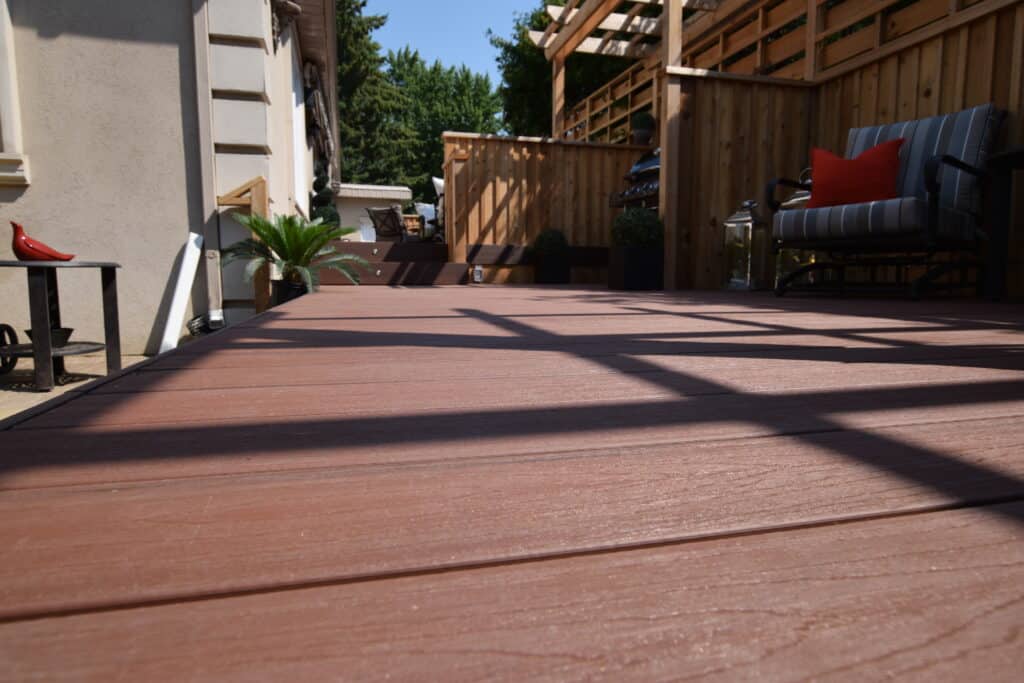 Choosing Your Decking Materials
When building a deck over a concrete patio, you can opt for most decking materials, from traditional wood to more sleek and contemporary composite or PVC decking. While wooden decking will do the job, choosing composite or PVC when building a new deck brings many benefits.
For example, it's less maintenance once installed, lasts 10 to 15 years longer than wood, and doesn't need to be re-painted or re-stained. Composite and PVC decking are both as strong and durable as wood, as well.

In addition, composite and PVC decking are much less prone to issues that you'll encounter with wood decks. These common issues that you'll avoid by opting for composite or PVC materials include:
Cracking or warping
Insect damage
Mold, rot, and mildew
Colour fade
Loose screws or nails
UV ray damage
One great way to take full advantage of composite materials, especially when installing a ground-level deck over a concrete slab or a rooftop deck, is by using composite construction boards by TruNorth. These boards elevate the deck, allowing for adequate air circulation and water drainage, which prevents damaging moisture buildup under the deck boards. Made from recycled plastics, they're not only eco-friendly, but they also won't rot like wood.
Eco-Friendly Materials
If you're looking for the most environmentally friendly option, composite and PVC decking come out on top again over wooden decking. Many brands use recycled materials to create their decking boards, meaning materials are re-used, and no new trees need to be cut down. For example, TruNorth Composite Decking is made with 95% recycled content, including a rice hull core.
Heat Resistant Materials
Those concerned about their deck overheating during the hotter months will also want to go for composite or PVC decking materials. Composite and PVC decking materials these days typically stay cooler than previous generations of composite decking, and they will not crack or warp due to heating from the sun.
The level of heat protection will vary from brand to brand. For example, TruNorth Composite Decking features heat-blocking technology, and Clubhouse PVC Decking stays up to 30% cooler than competing PVC brands!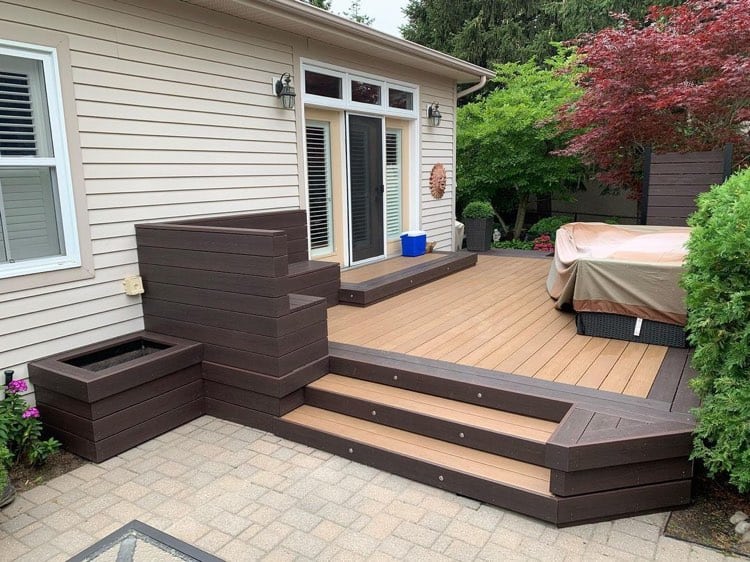 Aesthetic Elements
PVC and composite decking also come in a range of colours (so you don't need to paint or stain the deck boards before or after installation) and often feature wood grain embossing to resemble traditional wood.
TruNorth Composite Decking and Clubhouse PVC Decking each offer a variety of distinct colours, from neutral sandstone and various greys to more impactful and warm mahogany and walnut.
Enhancements and Finishing Touches
Along with choosing your main decking materials when building a deck over a concrete patio, you may want to add enhancements and other finishing touches.
These elements can include railing, stairs, lighting, or even seating areas that can be built using deck boards. Choosing which enhancements and finishing touches to add can be based on both practical and aesthetic reasons.
For example, if you're building a raised deck, you'll need to add stairs and railings for functionality and safety. However, you may then add built-in seating for style reasons, such as liking the design and the way this type of seating blends with the deck.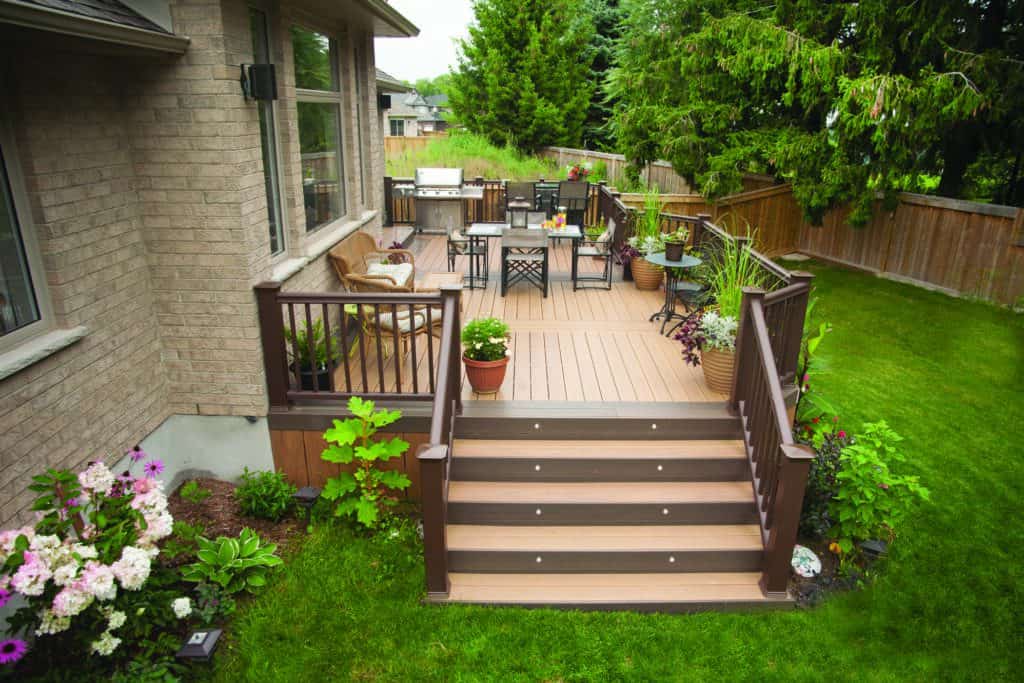 You could also add design elements like a pergola, which helps protect the deck from UV rays or add fencing around your deck for added privacy. TruNorth's Slide & Go Fence is an excellent option for the latter. It's incredibly easy to install and comes in the same 12 shades as TruNorth Composite Decking, allowing you to opt for the same colour as your deck or choose a different complementary shade.

Once you've decided on all the design elements for your deck, you can begin the construction process or call in a professional deck builder, which is recommended. If you want to find a reputable deck builder in your area, use our convenient 'Find a Builder' tool.
Maintenance and Care
Now that your deck is installed over your concrete patio, you can sit back and enjoy it! However, you will want to keep a few care and maintenance tips in mind to keep your deck in good shape and increase its longevity.
1. Sweep Frequently
Whether you opt for wooden, composite, or PVC decking, sweeping the deck surface regularly is crucial. Removing debris helps avoid issues like mold or mildew growth.

Luckily, if you choose a composite or PVC deck, the chance of these issues occurring is very low. Therefore, while you should sweep regularly, leaving some debris now and then won't cause major issues.
2. Wash the Deck
Occasionally, you should wash down the decking as well. With PVC or composite decking, you can simply use warm water and soap. This can be done once every few months and when spills or stains occur.

As with mold and mildew, stains and spills are going to cause little to no long-term damage to PVC or composite decking; however, cleaning them as they occur is highly recommended.
3. Protect the Deck from UV Rays
To keep the colouring of your deck in the best condition, take action to prevent UV damage. Ways to do this include using sun umbrellas or adding a pergola over the deck. Also, consider moving your outdoor furniture around once in a while to avoid differences in colour due to some areas getting more sun than others.

Conveniently, composite and PVC decking are very resistant to damage from UV rays, so you won't need to worry about protecting the deck that much. Both TruNorth Composite Decking and Clubhouse PVC Decking feature heat-blocking technology to lessen issues from the sun's rays even more.
4. Check for Damage Periodically
Lastly, do periodic inspections of the deck to check for damage, like signs of mold, spilling or staining, insect infestation, and the like.
Again, you'll want to check wood decks much more frequently than composite or PVC decks as they are much more prone to damage and other issues. You should also look out for structural issues, cracking or warping, and loose screws or nails if using wooden decking.
To learn more about how to care for your deck and make it "summer ready," read our article on summer deck cleaning tips. If you have a TruNorth or Clubhouse deck or are considering one, also take a look at our care and maintenance guide to discover how easy it is to care for your composite or PVC deck.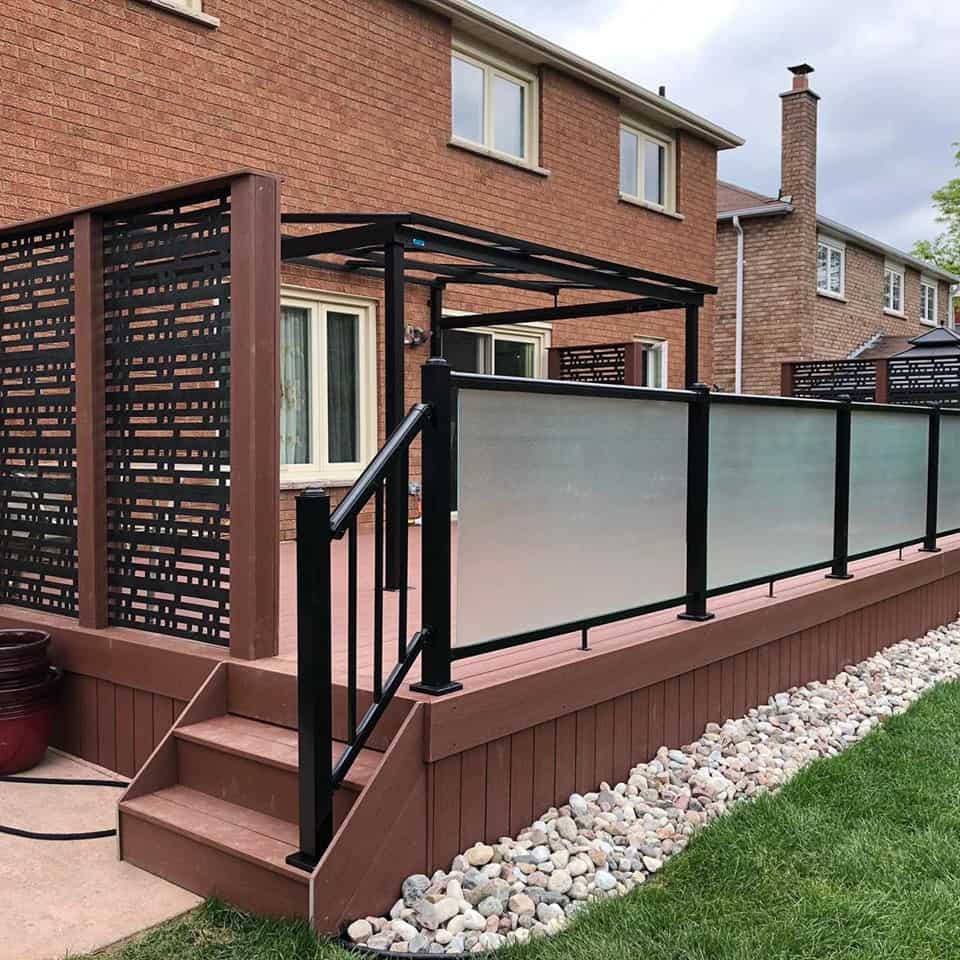 In Conclusion
As this article should have highlighted, building a deck over a concrete patio has many advantages and is an ideal way to update your outdoor space and improve functionality. However, when planning this type of project, there are also things to keep in mind. These include assessing the suitability of your concrete patio for a deck, obtaining all necessary planning permissions, and deciding on a design that suits your preferences and is functional for your outdoor space.
If you do decide to add a deck over your concrete patio, the article should also have showcased the many benefits of opting for composite or PVC decking over wood. These materials are longer lasting and more durable, significantly less prone to damage, and are much easier to maintain.

To learn more about the benefits of these materials and why TruNorth or Clubhouse decking are excellent choices, explore our in-depth resources page. You can also order samples, find out where to buy, and much more on our website.