Once the warmer months arrive, you'll be excited to enjoy your outdoor space, including your deck. However, after months of leaf fall, rain, and snow, your deck will likely need cleaning.
Luckily, deck cleaning doesn't need to be overly high maintenance or time-consuming. With these easy-to-follow tips, you can get your deck ready for summer in no time! We also include some advice for maintaining your decking throughout the season, whether you have a composite, PVC, or wooden deck.
Why is Composite Decking Easier to Clean and Maintain Than Wooden Decking
Before discussing the best ways to get your deck ready for summer, it's important to highlight why composite decking materials are significantly easier to clean than wood.
Composite, as well as PVC decking, is wrapped in a plastic-style coating. Due to this, the deck is easier to clean with only soap and water. Any stains can be washed or scrubbed off with a lot less effort than if stains occur on a wooden deck.
The chance of staining occurring is also much lower with composite decking than with wooden decking, which is very porous. In addition, non-wood decking is much less likely to develop issues like mold or mildew that need to be cleaned and treated.
If you're thinking about building a deck for the summer and want to learn more about all the benefits of non-wooden decks, check out the TruNorth product information and benefits page.
Tips For Cleaning a Deck During the Summer
1. Remove Any Debris
Cleaning composite decking or any other deck material begins with sweeping up debris, like leaves and dirt, that may have accumulated on your deck over fall and winter.
If there is still any snow on your deck, use a plastic shovel to remove it. Always shovel along the deck boards lengthwise to avoid scratching.
2. Wash the Decking
After sweeping up any debris, you can begin the cleaning process. Conveniently, PVC and composite decking can generally just be cleaned with warm soapy water and a sponge or soft bristle brush.
After hosing down the deck to get rid of most of the dirt, focus on cleaning each board with your warm water and soap mixture to get a deep clean, resulting in a deck that looks brand new!
When using soap, don't forget to clean off all residue; this may mean hosing down your decking for a second time to make sure both the soap and dirty water from scrubbing are removed thoroughly. You could also opt for a composite deck cleaner if the decking is particularly dirty.
As wood decking is a lot more difficult to clean with only water, you may need to opt for stronger tools like a power washer. A low setting on a power washer can also be used to clean your composite or PVC decking.

If you have a TruNorth deck, use pressure washers at less than use pressures less than 1,700 psi. For Clubhouse decks, use a pressure of less than 1,100 psi at 10" above the deck surface. Additionally, make sure you wash in the direction of the grain pattern to avoid possible damage to the boards.
3. Do Additional Maintenance and Fix Any Issues
It can be a good idea to check for damage before washing the deck. Some issues will be able to be fixed after the deck is clean, but it may make sense to deal with other problems before washing if fixing them could make a mess.
With a wooden deck, you'll probably have more maintenance than with a deck made from a more durable material. Issues to fix can include mold, mildew, or rot that may have occurred during the winter.
If any deck boards have been damaged, they'll need to be replaced. Be sure to also check all nails and screws, and if any are defective, remove and replace them.
Lastly, you'll likely want to re-stain, re-paint, or re-seal your wooden deck before summer, whether you do it yourself or hire someone to help. Sealing a wooden deck generally needs to be done every one to two years, while re-painting or re-staining can be done every three years or so, depending on how much the colour has faded and been otherwise damaged.

Composite and PVC decking will have far fewer issues to fix, if any. Assuming the decking is still secured well and doesn't have any scratches or other cosmetic damage, you'll be pretty much done with the cleaning phase without any extra steps!
How to Maintain Your Deck Throughout the Summer
4. Sweep Frequently
Ideally, sweep your deck throughout the summer as soon as debris occurs. This debris can include fallen leaves and pine needles or pollen. It's important to keep the surface of your deck clean not only for visual appeal but also to prevent the accumulation of moisture and potential mold or mildew growth. However, it's essential to note that if you have a TruNorth or Clubhouse deck, any mold or mildew that may develop would be limited to the surface and would not penetrate into the core of the decking material. The durable and non-porous nature of TruNorth and Clubhouse decks helps prevent mold and mildew from taking hold and allows for easier maintenance and cleaning.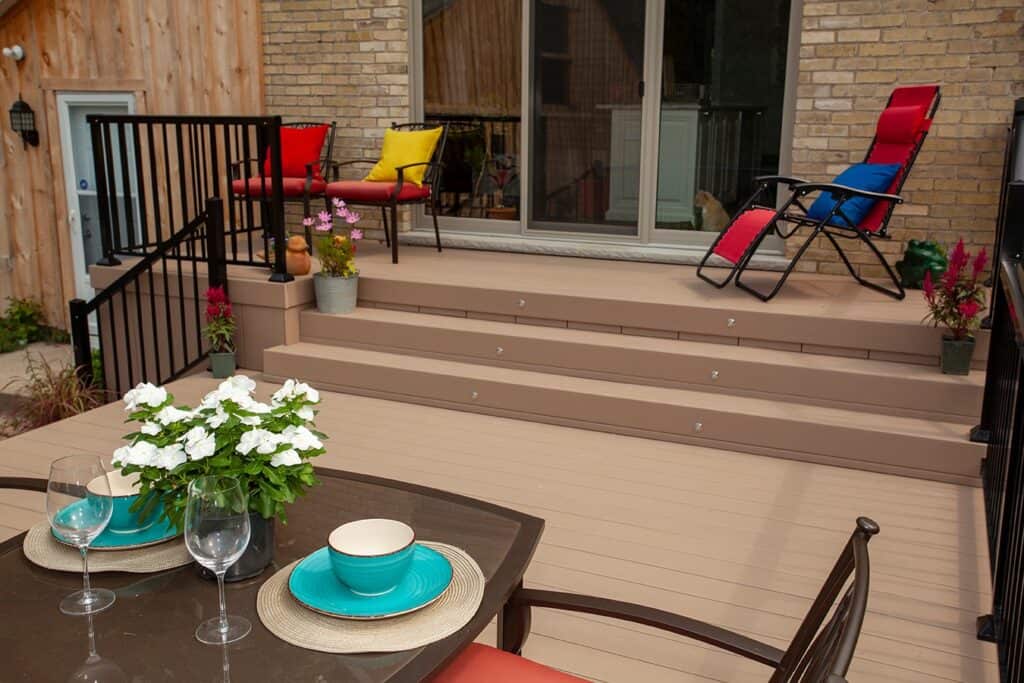 5. Remove Stains as Soon as They Occur
If any type of stain or spill occurs on your deck during the summer, you'll want to clean it up immediately. Generally, with a composite or PVC deck, soap and water will be sufficient to remove stains. However, all-purpose cleaners can also be used as long as all residue is thoroughly removed.
If you have a BBQ on your deck, keep an eye on spills from that. Oil spills, especially, can cause mold to grow quickly. With a TruNorth composite or Clubhouse PVC deck, the mold won't be able to damage the interior of the decking boards. However, it's important to address any mold issues promptly as it can still cause surface-related issues. It's worth noting that there are other composites in the market with exposed undersides that can be susceptible to mold damage, so having a TruNorth or Clubhouse deck provides added protection in this regard. With a wooden deck, mold growth can mean entire sections of your decking need to be removed and replaced.
When it comes to reducing the chance of staining, not spraying or applying insect repellent or sunscreen while on your deck is important. The ingredients in these products can create lasting stains on the deck, no matter what type of decking you use, as they react with the decking surface.
If you have a TruNorth deck, you do have a stain warranty. However, note that any spill or stain must be cleaned within seven days to maintain this warranty.
6. Take Measures to Prevent Mold and Mildew Growth
As mentioned, sweeping can help prevent mold and mildew from occurring, as can cleaning up stains quickly. However, giving your deck a deeper clean once in a while during the summer is a good idea as well, especially if a decent amount of pollen could have fallen on it.

Simply follow the cleaning tips in the previous section about halfway through the summer to keep your deck in top shape.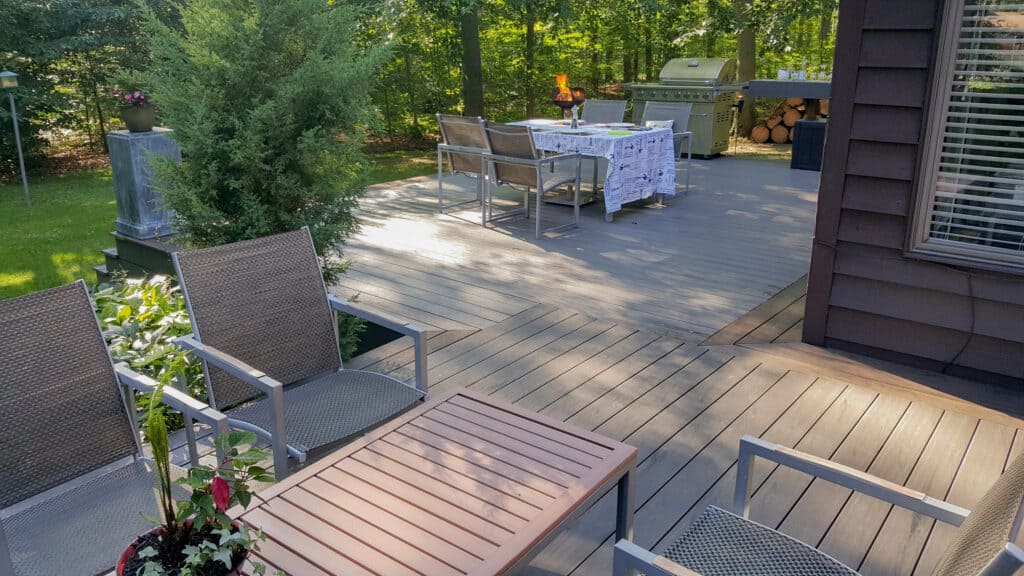 7. Protect Your Deck from UV Rays
As the weather warms up, your decking will be exposed to stronger UV rays and you should follow measures to protect against these rays. This is especially important for stained wood decks.

While composite and PVC decks often have a high level of fade resistance, following advice to protect against UV rays is still a good idea. For wooden decks, ensure they're painted or stained and sealed. For all types of decking, adding shade over them, such as using sun umbrellas or a pergola, is a good idea as well.
If possible, also move your deck furniture around. Doing this ensures that certain areas don't get more sun than others, which could create differences in the colouring of your decking due to higher levels of fade in some areas.
In Conclusion
Having read this article, you should have all the information you need to clean a composite deck or other decking material in time for the summer. Having done a main clean at the start of the summer, don't forget to maintain your deck throughout the season as you use it to avoid any issues occurring.
As discussed, keeping composite or PVC decking clean and in good shape is much easier than wooden decking. Other benefits of these lower maintenance materials include that they're longer lasting, often more eco-friendly, and will encounter fewer issues like cracking, warping, rot, and colour fade. 
To ensure your deck stays in optimal condition and to learn more about caring for your specific decking material, we recommend visiting our Care & Maintenance page. Here, you'll find detailed guidelines and tips on how to keep your TruNorth composite or Clubhouse PVC deck looking its best throughout the season. Take advantage of the resources available and enjoy your beautiful and hassle-free deck all summer long!