If you're planning a deck project, one of the main questions you'll be considering is whether to go for wood decking or composite decking. When comparing composite versus wood decking, there are many things to look at, from cost and design to durability and maintenance.

In this article, we'll offer an overview of the main differences and pros and cons of each material to help you make the best decision for your needs. Keep reading to learn more about how to choose the best material for your deck project!
Should You Opt for a Composite or Wood Deck?

What are the Primary Differences in Materials?
When deciding whether to go for a wood or composite deck, one of the main things to compare is the materials being used. Wood decks are made from natural materials, with redwood and cedar being popular materials for these decks. Composite decks, on the other hand, are made from man-made materials.
You may think that opting for a natural product, like wood, is the best way to go for a variety of reasons; however, when it comes to decking that's not always the case.
Environmental Impact of Materials
Firstly, those who want to make more environmentally-friendly purchases should opt for composite decking. Wood decks require deforestation, and while you can find wood decking from sustainable forestry projects, this isn't the case with every product on the market.

Conversely, composite decking often makes use of almost 100% recycled materials. For example, TruNorth Rice Hull Composite Decking is a prime example of eco-friendly design. These deck boards are made with 95% recycled content. The decking is also produced in North America, reducing transport-related emissions.
Safety of Materials
The materials used in composite decking are also safer than wood decking. Even treated wood will be prone to splintering. This can cause harm if walking on your deck in bare feet and is of concern if children or pets will be on the deck. Composite decking features plastic capping that won't splinter, making it safe for bare feet and paws!
In addition, composite decking uses an internal clipping and fastening system instead of nails and screws, that are used when building wooden decks. As no external screws and nails are included in the end product, there's no potential hazard from these coming loose as they often do over time with a wood deck. 
Design Elements and Aesthetics
After looking at the more practical differences in the materials used to make composite and wood decks, you'll want to look at design differences and aesthetics.
Wood decks provide a more natural look and feel, while composite decks offer more customization options and a more consistent look. However, if you want the look of a natural wood deck, that doesn't necessarily mean you have to purchase wood decking. More and more composite decks are being made to resemble wood, thanks to woodgrain embossing technology, to a point where you may have trouble telling it's not real wood!

With composite decking, you also don't have to stain or paint the deck to get the colour and design you want. Composite decking comes in a range of colours (at TruNorth, we offer 22 different colour choices to suit all tastes); perfect for creating a unique and customized design!
Other Differences Between Composite and Wooden Decking Materials
As you can see, the materials used to make composite decking generally offer more benefits than those used to make wooden decks.
A few other differences between composite and wood decking include that composite decking material is much more waterproof than wood. This means you're less likely to experience water damage issues with your deck, including mildew and molding.
This waterproofness may cause composite decks to become slippery, which won't happen with wooden decks. Yet most composite decks are designed to be slip-proof and can be used around swimming pools, hot tubs, and the like without issue.
Another benefit of composite decking material is that it won't rot or suffer from insect damage as wood decking will, increasing the longevity of the product (discussed more below).
You will find, however, that composite decking can heat up a bit quicker than wood decking. Conveniently, there are material options on the market that heat less quickly than average composite decks.

For example, TruNorth Clubhouse Premium PVC Decking​ stays up to 30% cooler than other competing PVC brands, making it the perfect choice if you're concerned about your deck heating up during warmer months. TruNorth Rice Hull Composite Decking​ also utilizes heat-blocking technology to keep it as cool as possible, even in the hottest weather.
When discussing heat effects on composite and wood decks, you must also note that heating can lead to cracking and warping in wooden deck material, which won't occur with a composite or PVC deck.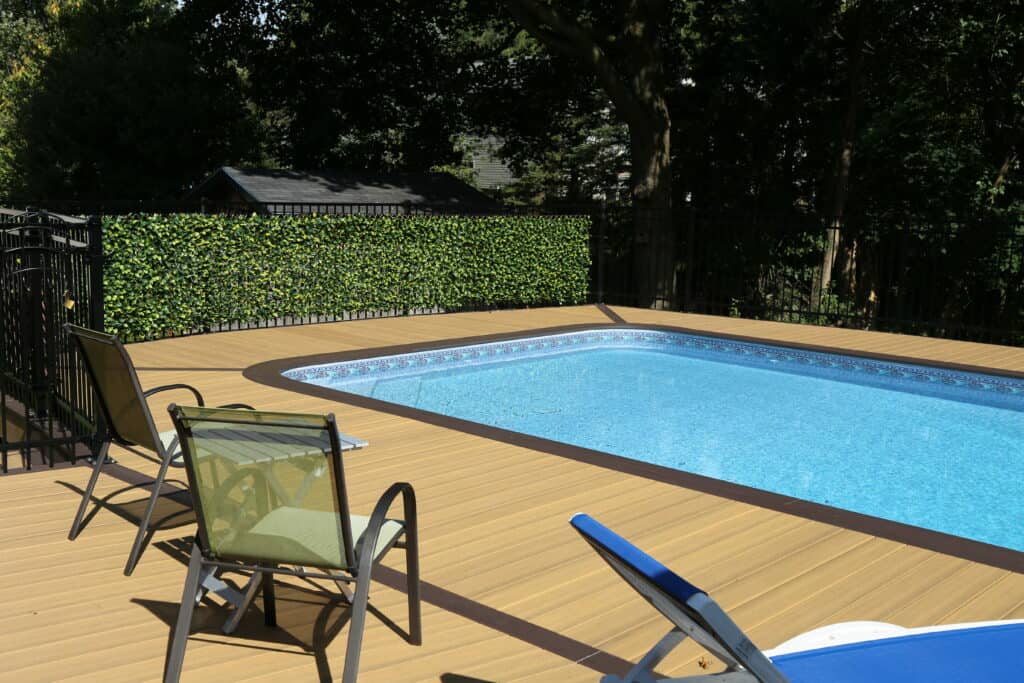 Is Wood or Composite Decking Cheaper?
Pricing will be a primary concern when planning a new deck and comparing composite decks vs. wood. When it comes to wood and composite decking, wood decks will often be cheaper. However, they aren't the best value for money.
While a wood deck will cost less to purchase upfront, it will need more maintenance than a composite deck, adding to the lifetime cost of the product. In addition, composite decking lasts longer than wood decking. On average, a wood deck has a life of around 10 years, while composite decks can last up to 25 years.
Therefore, although you'll be out of pocket a little more at first with a composite deck, it's better value for money and you'll spend less in the long run. If you sell your property, you'll also get a better return on a composite deck than a wood deck.
If you're interested in learning more about how much your composite deck project will cost, use the TruNorth cost calculator, which will offer a quote based on your desired deck measurements.

Which Lasts the Longest: Composite or Wood Decking?
As briefly discussed earlier in the article, composite decking is longer lasting than wood. On average, a wood deck will last between 10 years to a maximum of 20 years. Composite decking generally lasts a minimum of 25 years and can last up to 30 or even 35 years!
If opting for wood, the type of wood you use can extend the life of your deck. For example, using cedar or redwood decking and getting pressure-treated lumber can help with longevity, durability, and reduction of issues, such as insect damage. However, composite decking will still come out on top in terms of longevity, no matter what type of wood material and finish you opt for.
In addition, many composite decks, like all composite decking by TruNorth, come with a 25-year warranty. This can give you peace of mind that your deck will have a long life with little maintenance and associated costs.
What Causes Wood Decking to Have a Shorter Life?
Some of the primary issues that occur with wood decks that reduce longevity compared to composite decking include:
Issues with insect damage.
Rotting or molding is likely to occur, especially if the deck gets wet a lot.
Cracking or warping will occur as the deck ages and goes through the seasons.
Paint and stains will fade, and the longevity of the colours will decrease each time you re-paint or re-stain the deck.
Composite deck boards avoid these issues, meaning they remain in perfect condition for much longer. As they feature a plastic coating, insect damage is highly unlikely, and composite decking won't crack or warp, even if it gets heated during warmer months.
In addition, the capping on composite decking makes it highly waterproof, and you won't see issues with rot, mildew, or mold. Lastly, composite decking never needs to be painted or stained, and the colours of your deck won't fade, even due to sun or other weather damage. In fact, if you opt for TruNorth decking, fading of colour is covered by our 25-year warranty.
Is Composite or Wood Decking the Lowest Maintenance?
When wondering "Is composite decking better than wood?" value for money and longevity will be top factors to consider. However, you'll likely want to know which requires the least maintenance as well.

Composite decking is definitely the lowest maintenance of the two. Compared to a wooden deck, composite decking is much easier to clean. In addition, composite decking does not need to be re-stained or re-painted, unlike wood decking. Many brands like TruNorth even have fade technology built into the design to keep the deck colouring vibrant throughout its lifetime.
Wooden decks will generally need yearly maintenance, while a composite deck can go 25 years without significant maintenance needed. As discussed above, this maintenance will add additional costs each year, increasing the overall lifetime cost of a wooden deck even though it's more affordable than composite decking upfront.
Do note that composite decking can still be damaged and may need maintenance. However, the comprehensive warranty on most composite decking products will cover the repair of some or all damage.

In Conclusion
If you've been wanting to answer the question: "Is wood or composite decking better?" this article should have given you a good overview of the differences between the two materials to help you make the best decision for your needs.
Generally, composite decking comes out on top for a range of factors, as seen in this article. However, the decision between wood and composite will ultimately be based on factors such as budget, style preference, and desired level of maintenance.
If you're thinking composite decking could be the right choice for your deck project, learn more about the benefits of this material, the design options available, and more by exploring the TruNorth website and product options!