Having a more compact outdoor space doesn't mean you can't create the backyard of your dreams. In fact, there are many ways to optimize your smaller garden to get the most from your space and make it feel bigger and more welcoming.
This list of nine small outdoor space ideas covers a range of ways to update your outdoor area, from growing vertical plant displays to creating distinct areas with decking and adding multi-use furniture. Keep reading for our top small garden design tips!
9 Ways to Maximize Small Outdoor Living Spaces
1. Grow a Vertical Garden
When you have a smaller outdoor space, you don't want to lose too much real estate to plant and flower beds. However, you don't need to sacrifice greenery!
Opting for a vertical garden is a great way to have plants and optimize your square footage. These gardens are placed on the walls and fences around the yard and offer as much flexibility and creativity as a ground-level garden.
Whether you create a green wall, have colourful flowers in planters, grow a herb garden, or anything in between, you can do so with a vertical garden. The living walls you create will also add dimension and a pop of colour to your space.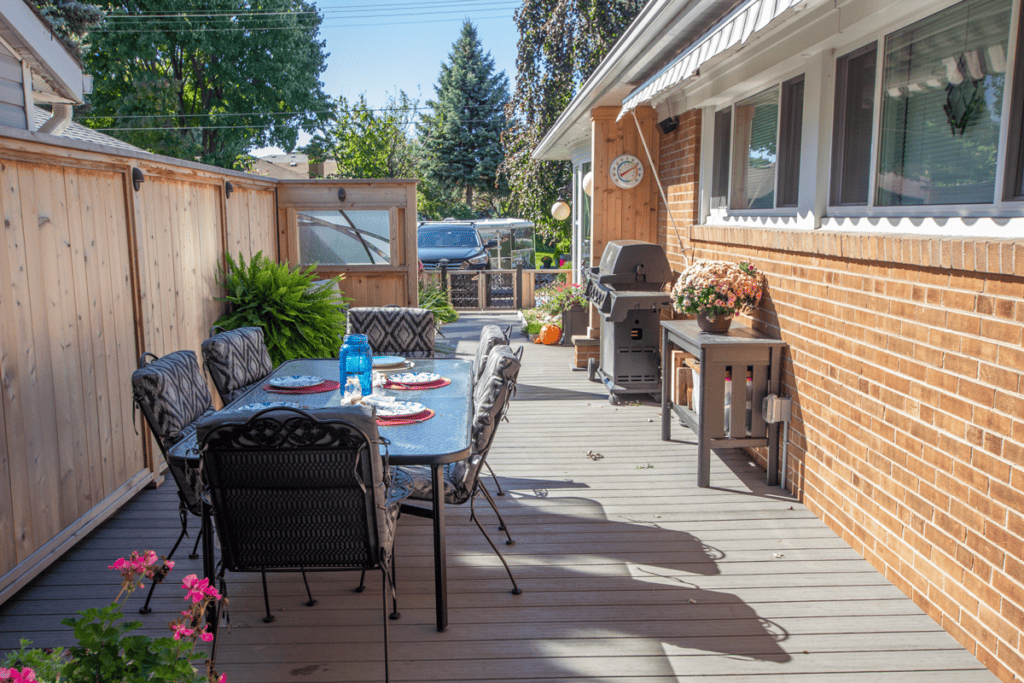 2. Make Use of Tall Plants
Another of the outdoor small space ideas relating to plants is to opt for taller plants where possible, especially those with thin roots or trunks and abundant leaves. These include palms, like majesty palms, and bamboo (although, ensure the latter is not planted directly into the soil as bamboo's strong roots can cause issues). Tall cacti look great as well and are an ideal option for those living in areas with low rainfall.
You can place taller plants in pots, small beds or containers around the yard's perimeter. These tall plants won't clutter at ground level but will offer colour, shade, and a unique dimension to the overall garden. They can also offer a bit of privacy if your garden is visible from neighboring areas or properties. 
3. Create Distinct Areas
No matter how compact your space is, creating distinct areas can do wonders to maximize functionality and create a sense of space. These areas can include lounge, dining, and open garden areas.
To highlight where one area begins and another ends, you can use plants or small hedges as a border. Decking or tiling can also be used. Additionally, you could create a small wall between spaces, for example, by adding a trellis with plants on it or an easy-to-install fence product like TruNorth's Slide & Go Fence.
4. Build a Deck
Taking up some of a small garden with a deck may not sound like a good idea, but it's actually one of the best things you can do to optimize your backyard.
A deck, such as an easy-to-install TruNorth composite deck, helps with the previously discussed point of creating distinct areas in your yard. Specifically, a deck can be used as a living area with dining or lounging furniture separate from your yard space, which may include grass, plants, and flower beds.
What's great about opting for composite decking like TruNorth's is that it's very low-maintenance compared to wood decking, reducing yard maintenance time and giving you more time to enjoy your outdoor space. It's also long-lasting and offers a cleaner and more finished look compared to wood decking or patio materials like stone or tile.
TruNorth decking stays up to 30% cooler than other competing brands as well. Therefore, you won't lose out on using part of your already more compact backyard when the weather is hot due to your decking being overly warm.
If you don't want a full deck, composite decking can also create a path through your garden. And, if you have a very small space, you could add composite decking over the entire area in place of tile for a longer-lasting and lower maintenance patio.
5. Install a Pergola
One of the best but often overlooked outdoor patio ideas for small spaces is adding a pergola. These are best added over seating or dining areas and offer both shade and privacy if your garden is overlooked. A pergola could also be placed on a deck if you go for that design option. You can even construct your pergola using composite deck boards!
A primary benefit of a pergola is that it helps separate your more compact garden into different areas without taking up much floor space. It also adds a unique design element to make your yard more appealing.
Pergolas offer another surface for vertical gardening as well. You can find a range of climbing plants, from greenery to climbers with vibrant flowers, like climbing roses. You could also put hanging baskets on the pergola, adding more colour and life to your garden without using any open floor area.
6. Optimize Outdoor Furniture
You can't fully enjoy your garden without a few pieces of furniture. Whether you opt for a dining table, couch-style seating with side tables, recliners, or any other style, there are a few tips to keep in mind when choosing outdoor furniture for small spaces.
When choosing furniture, opting for pieces with thin legs and frames can help give the illusion of more space compared to more bulky furniture. Multi-purpose furniture is also a huge plus in small outdoor spaces. For example, buying furniture that doubles as storage, like a bench or side table with storage inside.
Built-in furniture is another excellent option when trying to maximize space. Notably, you can create built-in bench seating using decking like TruNorth's composite decking. TruNorth deck boards have the same color on both sides, providing a consistent look. In contrast, Clubhouse Legacy offers a unique feature with a second color on the other side of the board, allowing you to add a contrasting element to your design. This versatility gives you the opportunity to explore creative possibilities and tailor your bench seating to your personal style. TruNorth boards, on the other hand, provide a uniform appearance and the option for easy maintenance. In the event that a TruNorth board gets damaged, you have the convenient option to flip it over and use the other side. This feature not only allows you to extend the lifespan of your deck but also simplifies the maintenance process. By flipping the board, you can easily conceal any imperfections and maintain the overall aesthetics of your outdoor space. Whichever option you choose—whether it's TruNorth or Clubhouse Legacy—you can create stunning built-in bench seating that maximizes space and enhances the aesthetic appeal of your outdoor area.
Lastly, ensure all furniture chosen is comfortable! Or add cushions and other soft furnishings to improve comfortability. Generally, the less comfortable the furniture, the less the outdoor space gets used – so don't forfeit comfort for more compact furniture.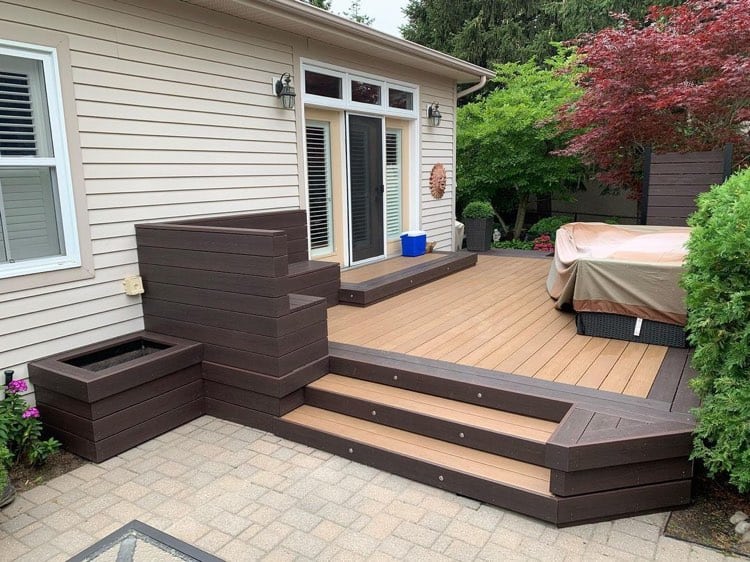 7. Add Accessories
If you're unsure how to decorate a small outdoor space, there are many accessories you can add to brighten up your yard and even make it appear bigger!
For example, outdoor rugs offer the perfect way to add colour and texture without taking up space. If using a rug, make sure you purchase one made for outdoor usage.
Similar to outdoor rugs, outdoor cushions and blankets are another great way to add colour and make your space more inviting and cosy. Pillows and cushions can also make your seating more comfortable.
Another good tip is to add a mirror, or mirrors, on the walls of your house that face the garden. These accessories reflect the light making your garden feel more open and expansive. You can find many great mirrors at thrift stores and reclaim yards, so you don't need to be concerned about potential weather damage to a more expensive new mirror.
8. Hang Lights
Adding lighting is a great way to use accessories to make the most of your smaller outdoor space. In the evening, well-placed lights will brighten up the space, making it appear more open and inviting. You can also add lighting in darker corners to brighten the entirety of the garden and allow you to see the whole space.
Lighting is also very functional; it lets you create different atmospheres and allows you to continue enjoying your yard after dark.
Keep lighting off ground level in places with patio furniture by opting for string lights or wall lights. If you build for a pergola, lights can be added there as well.
Additionally, you could place lanterns on your patio table for some added illumination. Putting small lights in flower beds or plant containers is also a great idea, which allows you to illuminate the entire garden.
9. Bring the Indoors Outside
One of the best ways to make your outdoor space appear larger is by blurring the lines between indoors and outdoors to create a larger cohesive space. If you have double doors that open out to your yard, this will help with this technique a lot, but having these types of doors isn't necessary for this to work.

You can keep cohesion between the two spaces by using a similar colour scheme, patterns, and design other elements across both areas. For example, if you have blue soft furnishings inside, use that same colour outside. You can also add greenery and other plants indoors that are the same as or similar to the plants you have outdoors.
In Conclusion
This list of small outdoor living space ideas should have shown you all the things you can do to make a compact yard appear bigger. From growing vertical gardens and making use of lighting and accessories to building a beautiful composite deck, there's so much to be done to make your small garden visually stunning and welcoming.
If you're looking for more inspiration and ideas, we invite you to visit our "Get Inspired" page. There, you'll find a collection of amazing designs and projects that can help you transform your outdoor space into something truly remarkable.